Today, we'll discuss the most challenging and straightforward ways to start a car GPS tracking.
How does car tracking work?
If you look at the basics, GPS tracking is not as complicated as it sounds.
A small device called a tracker receives signals from GPS satellites and detects your car's location in real-time.
The device sends location and other vehicle data to a GPS tracking system.
You log in to the system on your computer or mobile device to monitor the car in real-time, view rides history, and much more.
Depending on the tracker, the system, and your needs, installing a tracker may be a five-minute matter or will take days. Choose an option depending on the time and money you possess.
Hard way: connect your car to GPS tracking on your own
1. Find and buy a GPS tracker
If you decided to choose a tracker on your own, visit your local electronics shop, an online store, or Aliexpress. Here are the selection criteria to consider.
Wired or battery. The former gets powered by the car, while the latter has a battery. The wired one is harder to install, but there's no chance that it will turn off when you need it most (unless someone sabotages the device on purpose). A wireless tracker is easy to hide and requires less maintenance, but if it works continuously, you'll have to recharge it frequently.
Report frequency. GPS tracker sends the vehicle's data to a GPS system at specific intervals. If you need real-time location data, you'll want a tracker with a high report frequency. If a daily report on the vehicle is enough, you should be OK with a GPS tracker that stores all the data in a black box and sends it to the GPS system once a day.
Concealability. If you think someone may steal your vehicle, you'll have to choose a tracker that can be properly hidden. If you just want to track movements – for example, to control a wife or teenage son driving your car – you can ignore this point. A tracker in plain sight on the dash panel will make them more disciplined.
Cost. More expensive trackers offer advanced functions, e.g., driver behavior monitoring, and sensors support. These costly trackers are installed in commercial vehicles, while simpler and cheaper trackers should be enough for a personal car. Plan to pay 40-90 dollars for a quality device at retail.
Performance. Lower price often means less stable operation, lower accuracy, no physical protection, inferior signal quality, and the need for reset sometimes. New to GPS tracking, people overlook the pain points when they start with less reliable trackers. Having understood what they need, people switch to more expensive devices and advanced solutions.
It won't hurt to consult a GPS tracking service provider. They often sell devices at below-market prices, can advise on a GPS tracker, and will instantly check the compatibility of your tracker with their GPS system to offer you a full solution — more on that in a bit.
2. Select a connectivity provider and buy a SIM card
To send vehicle data to a GPS system, your tracker needs an M2M SIM card. Nowadays, you can purchase it from most connectivity providers. Payments will depend on how frequently the tracker sends data to the system (in real-time, every minute, hour, or once a day).
Just google M2M connectivity providers near you, study their websites, and make some calls to understand which connectivity provider will offer you the best prices. It will take some time, but it's worth it.
3. Find a GPS tracking system that works with your tracker
The devices send data to the GPS tracking system. There, you can see vehicle movements, fuel consumption, driving style, and much more. But not all trackers are compatible with all GPS systems.
For example, the manufacturers of Chinese trackers often provide self-made GPS tracking systems. Unfortunately, these systems rarely work stable, don't render customer support, offer limited functions, and are hard to configure. In most cases, people use such software only to understand that the tracker works and switch to another system.
The good news is that there are universal systems supporting the most popular hardware on the market – thousands of types. Check out one of those here. We recommend choosing such systems because if you ever need to replace a tracker – you'll have a broader range of devices to choose from.
For the feature set, you do and may need in the future, consult a GPS tracking system provider. It's free and will save you the trouble of having to switch to another device or system in several months.
4. Configure the tracker to work with the system
You should "teach" the tracker to send data to the system. Most GPS trackers have step-by-step connection manuals.
In some cases, it's as easy as copying/pasting a GPS tracker model name, its unique ID, and SIM card number into a GPS tracking system settings. In other cases, it demands a more precise configuration.
Still, it may be hard for a novice. If you opted for a wired tracker, you would still have to take your car to the service station. There, an installer will connect a tracker to your car and system at a reasonable price.
5. Track your car.
It's the easiest part.
Simple way: connect your car to GPS through a cigarette lighter
When it comes to a private car, there's a way to skip all the steps described above. The market now offers out-of-the-box solutions, allowing you to connect a vehicle to GPS in minutes. Let me explain the approach by drawing on the example of ALLY – one of the latest GPS solutions for private cars.  
What's in the box?
Pre-configured GPS tracker connected through a cigarette lighter.
Pre-configured account in a GPS tracking system.
Pre-paid M2M SIM card.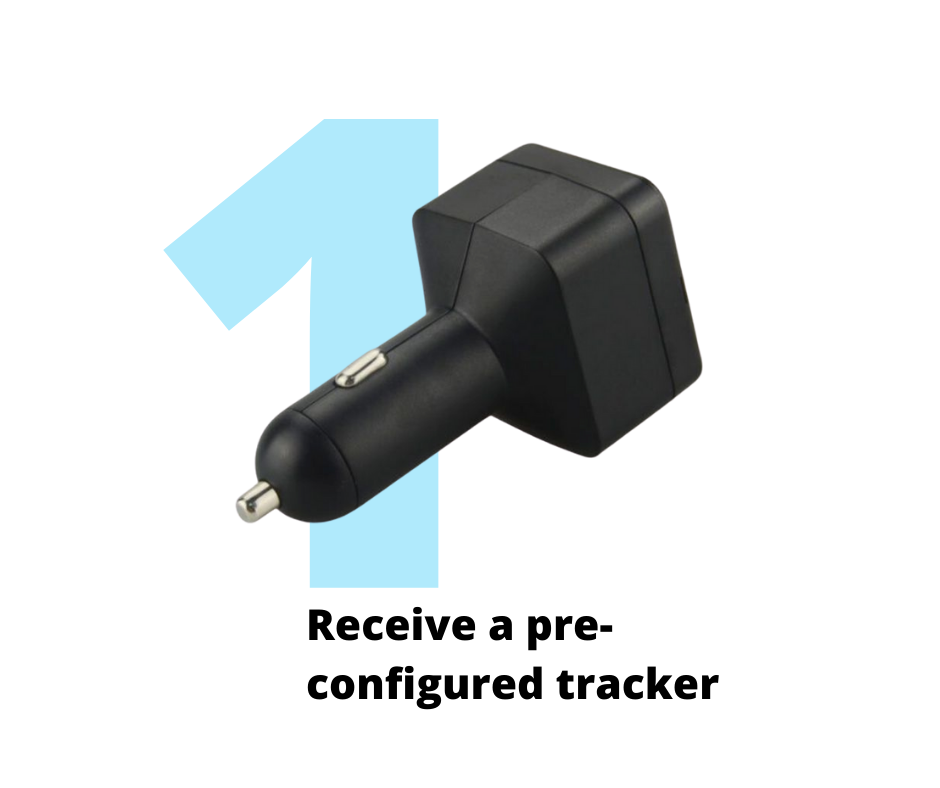 What does it mean for you?
It means no effort on your part and little expense. The solution relieves you from pains associated with choosing and installing a car GPS tracking solution.
About the GPS tracker
It's relatively cheap. Volume purchasing and mass production make the price lower than you can expect from even a simple standard tracker.
It's concealable by default. Inserted into a cigarette lighter, it looks and acts as a car charger. Not knowing about it, hardly anyone identifies it as a tracker. And car thieves can charge their phone with it before they get caught ;).
It's powered by a car without wiring. It means that you won't have to recharge it. Plus, you can set it up to send location data frequently, not being concerned about the dying battery.
It offers some advanced functions. I don't think it will cover commercial vehicle tracking that demands additional equipment, like sensors, DVRs, etc. But it operates stably, has a strong GPS signal and high accuracy. The two options that surprised me in such a small tracker are voice communication and driving style monitoring options offered only by expensive trackers. 
About SIM cards
You get an M2M SIM card at the price that connectivity companies offer only to service providers. In other words, you get cheap connectivity.
About the GPS tracking system
You get a GPS system on your laptop or smartphone and pre-configured to your needs – unnecessary modules are hidden and you don't pay for them. The mobile app gives you access to your car from any place in the world.
About the installation procedure
There's no need for installation and configuration; you just insert the tracker as a car charger and see your car in a GPS tracking system at once.
We've already advised you to contact a GPS tracking service provider at various stages of the process. But this is the case where a GPS tracking provider has already done all the work for you. So if you ever wanted to connect your car to GPS, it has just become 93% simpler, as I feel it.
Contact us for a free consultation about this or any other topic regarding GPS tracking, connected vehicles, and IoT.