KLOUDIP releases the most advanced delivery ecosystem into the market. EPORT is a logistics software where 3PL operators, cargo senders, fleet owners & managers cooperate to get the goods delivered fast and at a low cost.
Why do companies outsource logistics?
A third-party logistics provider, or a 3PL, is a company that provides outsource transportation, warehousing, and distribution services to goods manufacturers.
Unlike mere distributors and transportation companies, 3PLs are deeply integrated into customers' processes. And the 3PL logistics software plays a crucial role in the success and failure of such integration.
According to the study, there are three main reasons why we should thank 3PL service providers:
Cost reduction. 3PLs own or partner with transport companies and warehousing facilities to offer lower prices at scale. Lower logistics costs mean lower prices for all parties involved in the delivery.
Focus on the core business. Technologies, materials, and expertise make a great product, while logistics and warehousing issues distract manufacturers from it. 3PLs take up the distraction, leaving businesses focused on their products.
Reduction of capital investments. If one starts, diversifies, or renovates a business, 3PLs minimize initial investments into facilities, fleets, and land. The company can outsource everything at a low price.
The obstacles to outsourcing logistics
This part is about why third-party logistics companies fail to get more clients. The same study shows that some businesses still refrain from outsourcing logistics, as 3PLs are missing several things:
Readiness to adopt technology and innovation
Lack of professionalism and skill gaps
Fear of collaboration
Lack of clear industry standards and legislation
The unorganized transport sector and suboptimal cold-chain logistics
Readiness to adopt technology and innovation
Cost focus and low margins
Companies want to see 3PLs as business partners on the same level of technology, culture, strategy, and goals. KLOUDIP – a telematics software developer – releases EPORT delivery ecosystem that helps address at least half of these challenges.
EPORT: addressing the challenges of 1-5PL companies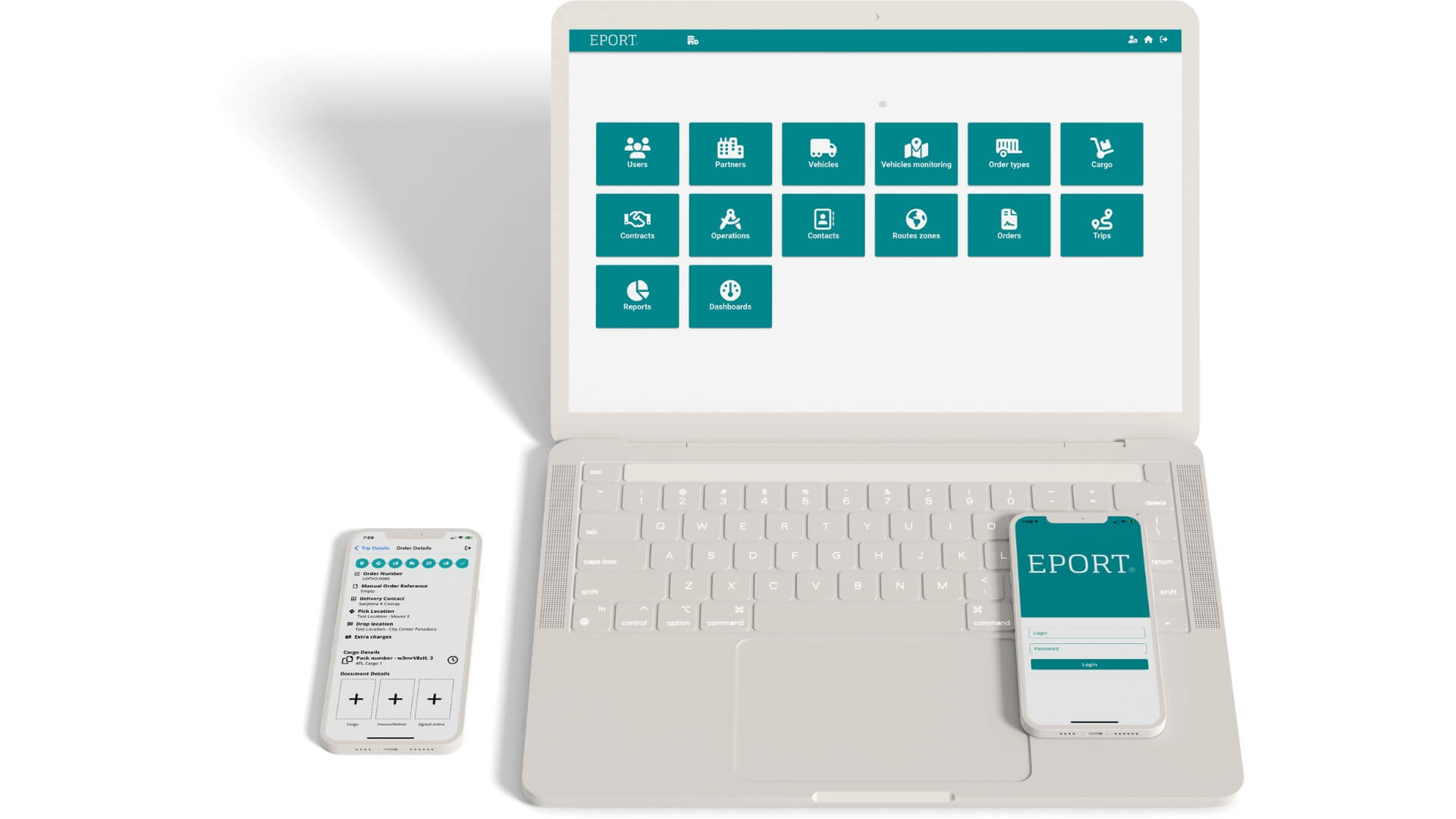 EPORT 3PL logistics software is designed for outsourced and integrated logistics from the core. Let's see how it helps service providers to fit the times and customer demands.
Challenge #1: Readiness to adopt technology and innovation
EPORT instantly brings logistics providers to the customer-expected technology level, demanding zero investment into software development and implementation.
Challenge #2: Fear of collaboration
EPORT makes operations transparent for all parties throughout the logistics chain: transport, pricing, orders, delivery progress, history, and status updates.
Challenge #3: Unorganized transport sector
EPORT offers a single point for managing own and third-party fleets, drivers, and helpers. Plus, integrated telematics shows vehicle and cargo movements in real time.
Challenge #4: Low margins and focus on costs
EPORT makes the delivery cost-efficient for all parties. The system ensures that vehicles follow optimized routes, never travel empty, and transport maximum cargo vs. carrying capacity, which cuts transportation costs.
EPORT. The delivery ecosystem for the industry
KLOUDIP created EPORT not to serve the logistics companies but the whole industry so that all parties can benefit.
1PL companies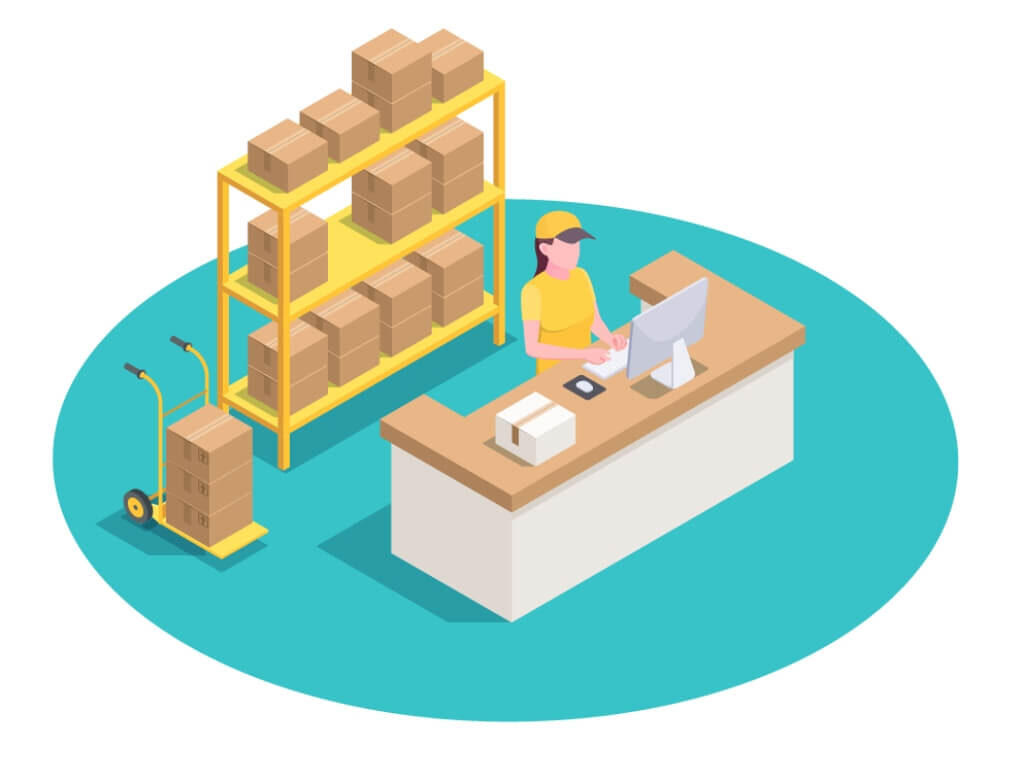 1PLs are cargo owners and goods manufacturers that work with 3PL operators to manage their transport requirements.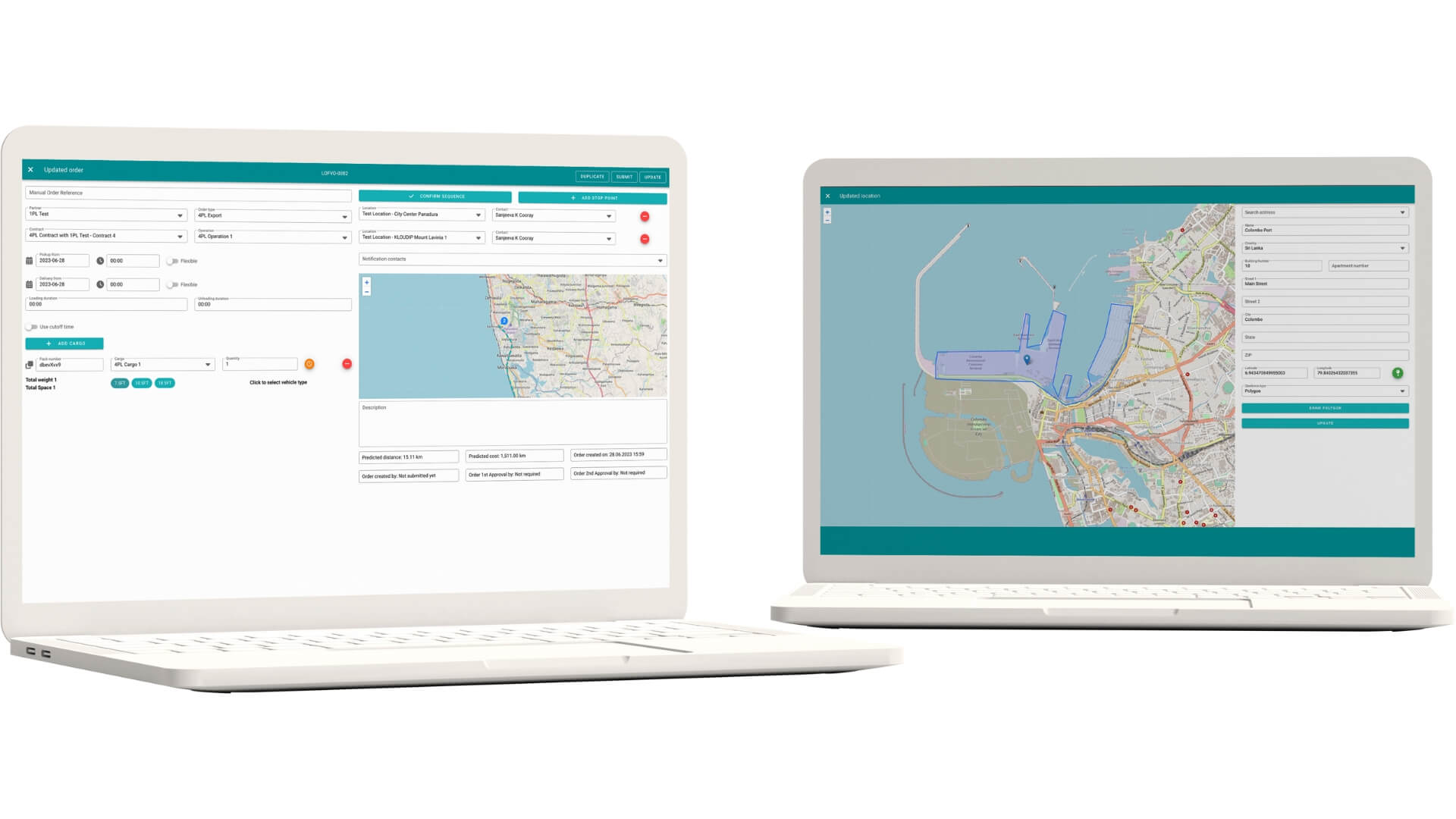 In EPORT, 1PL companies create orders, supply them to 3PLs based on pre-set contracts, and track delivery progress on the map or through delivery statuses. EPORT allows cargo owners to describe their orders with maximum precision, including
Cargo type;
The quantity of transported items;
Desired vehicle types;
Pickup/dropoff date and time;
Expected loading/unloading duration.
Before the trip happens, cargo senders can review the expected mileage, price, preliminary routes, and vehicle types. If they find trip parameters unsatisfactory, cargo owners can opt for another 3PL provider.
To ensure seamless communication with logistics service providers and even drivers, 1PLs can specify "Contacts" – the company representatives who will handle cargo reception and management at destinations.
Fleet owners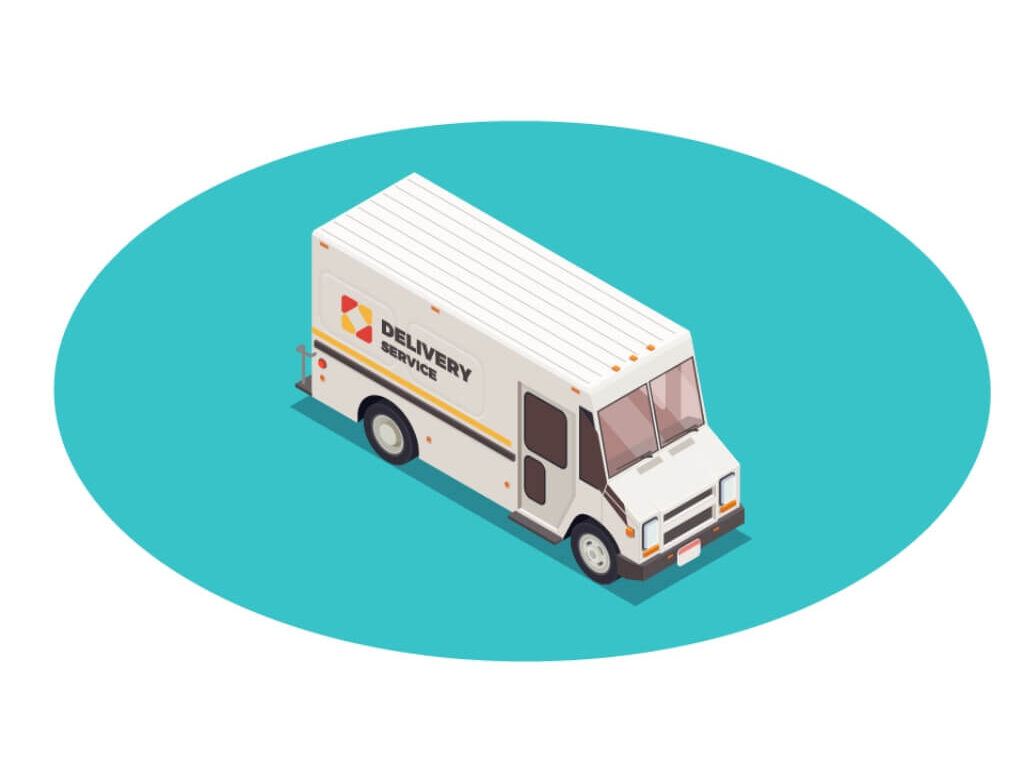 Deliveries don't happen without vehicles & drivers. Fleet owners add their vehicles, drivers, and helpers to the system, thus, extending the EPORT asset database.
For the vehicles, fleet owners can specify appearance, technical details, dimensions, carrying capacity, or cargo loading options and upload documents.
In the case of drivers, EPORT stores their names, contacts, driving permits, maximum driving hours, rates, and some extra information, like photos, licenses, etc.
Fleet owners don't supply vehicles directly to 3-4PLs or cargo owners. They ensure that vehicle and driver information in the EPORT database is correct, for example:
Vehicle dimensions and capacity allow EPORT to pick the best-suited vehicle for the selected order (depending on cargo volume or weight, etc.)
If vehicle or driver permits are expired, the system won't allow it to transport orders, relieving fleet owners from fines.
Having driver contacts at hand, managers can contact him in seconds in case of an emergency.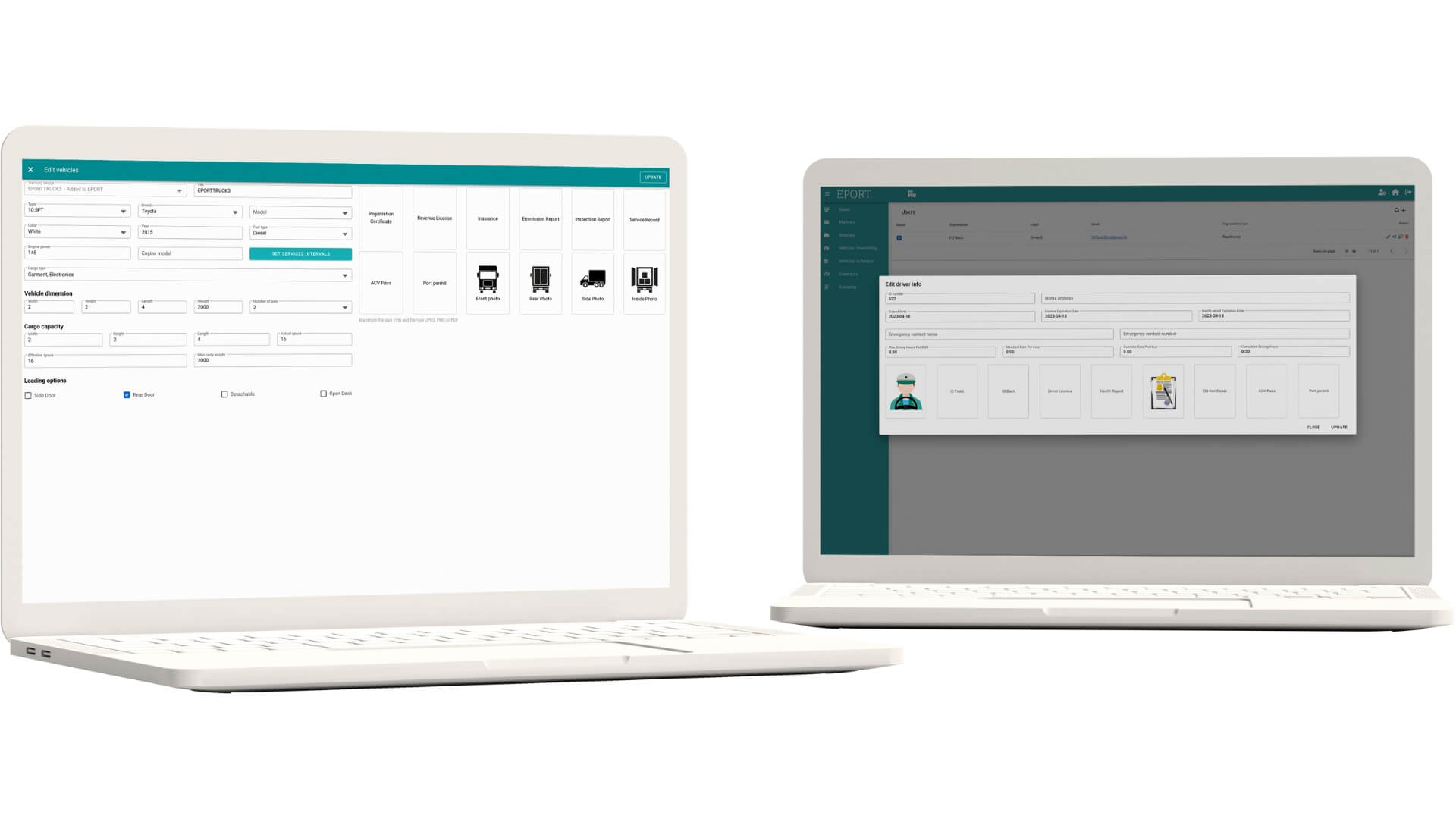 After entering all the vehicle and driver information in the system, fleet owners supply their fleets to 2PLs.
2PL companies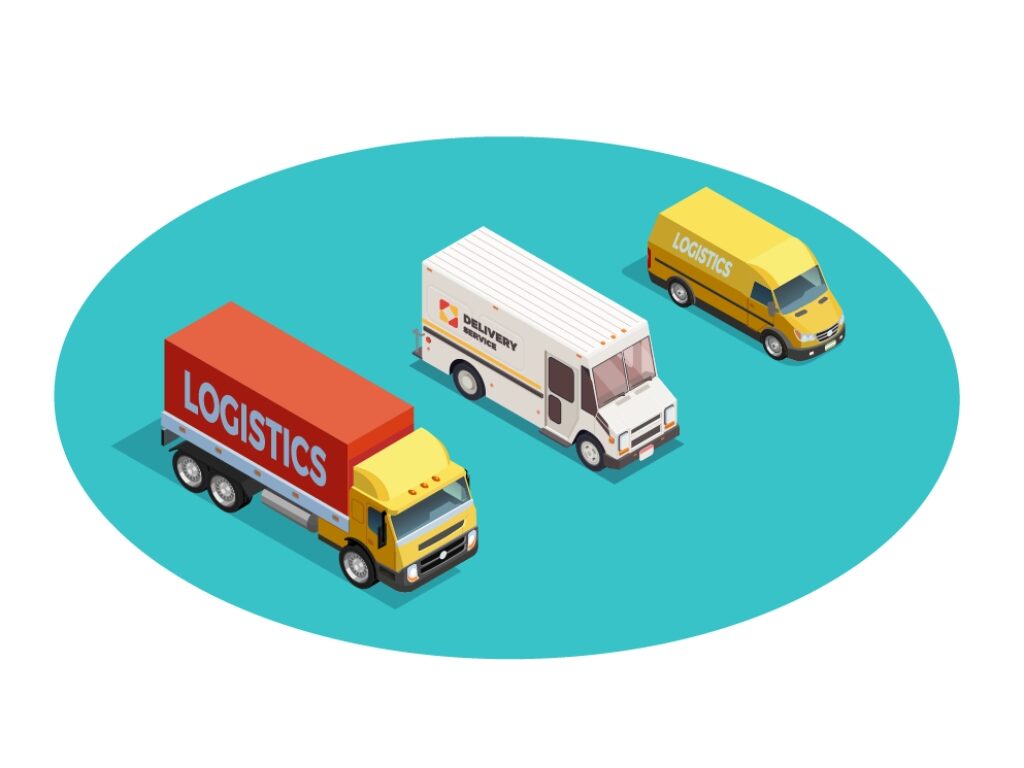 2PLs are fleet managers and providers.
These companies accumulate vehicles from various fleet owners and supply them to 3PL and 4PL organizations from a single point.
3PL companies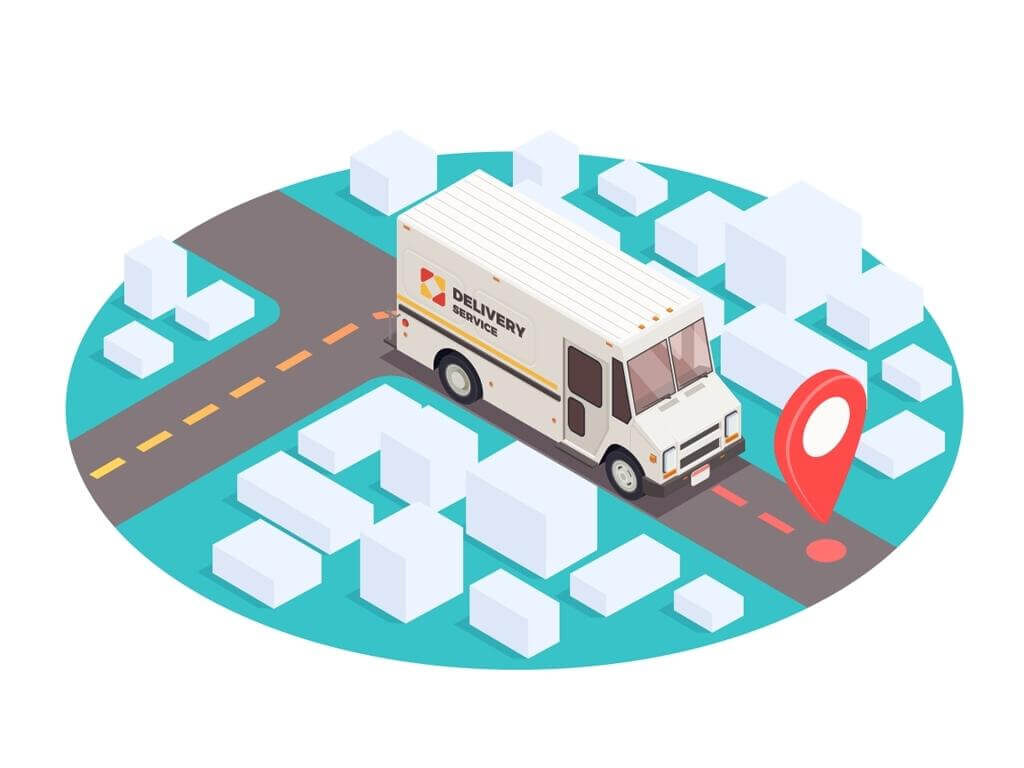 3PLs are logistics operators that work with 1PL and 4PL customers using fleets supplied by 2PLs.
3PLs receive delivery orders, assign them to vehicles, and initiate trips. EPORT is designed to make trips maximum cost-efficient, and here's how:
Vehicles vs. cargo. The system compares vehicle capacity vs. cargo weight & volume to find a perfect match.
Order list. 3PLs can filter orders and add them to trips based on similar parameters, like origin or destination.
Trip routes. EPORT generates the fastest, shortest, or no-traffic routes subject to your requirements. 3PLs can rearrange delivery points in the list and instantly see how mileage and time to destinations change depending on the order sequence.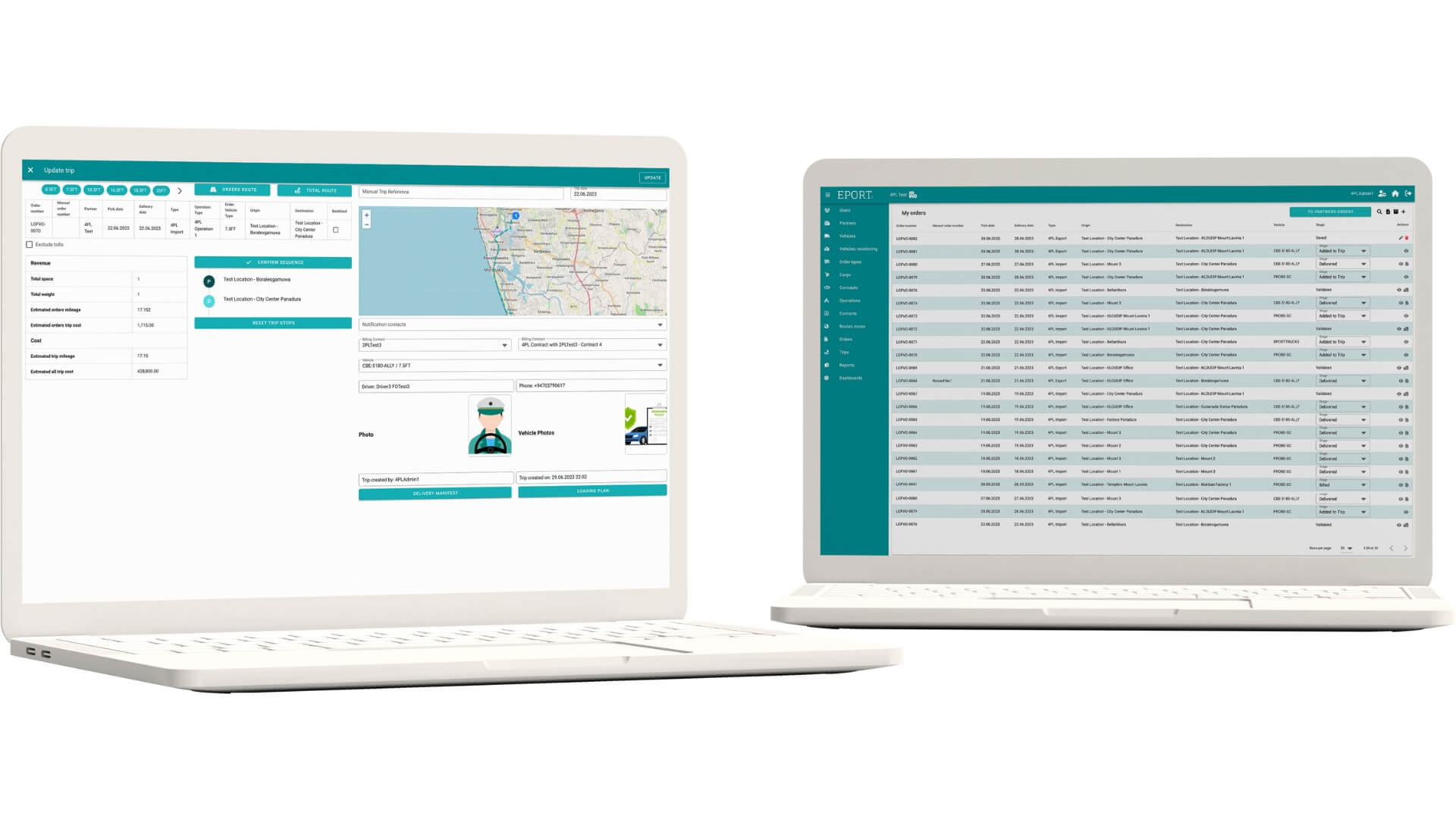 All the above ensures that vehicles always travel with a full trailer load and follow the most cost-efficient routes, minimizing logistics costs for all parties. Throughout the way, 1PL "Contacts" receive notifications on the delivery progress.
After the driver completes the trip, EPORT automatically generates shipping documents, like way bills, manifestos, and reports, based on data in the system.
4PL level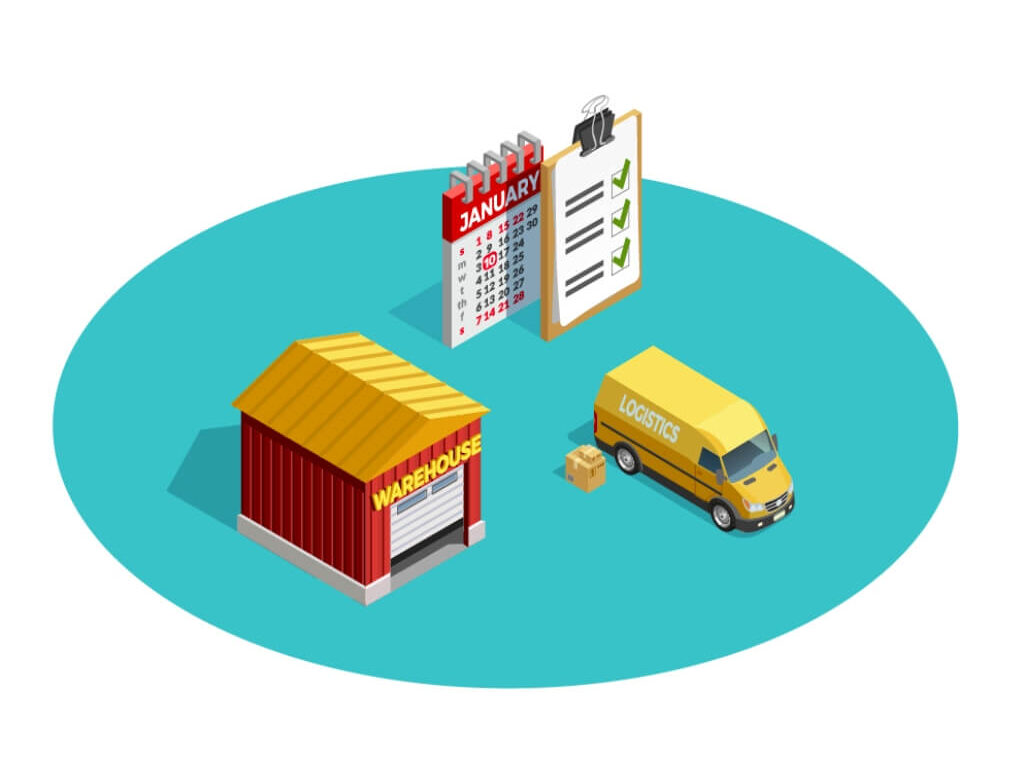 4PLs are large organizations with internal 1PL sub-units. They work with multiple 3PL companies and cooperate directly with 2PL providers. EPORT grants these companies the hybrid 1PL+3PL functionality, which allows 4PLs to receive orders, assign them to vehicles, and manage trips in a single account.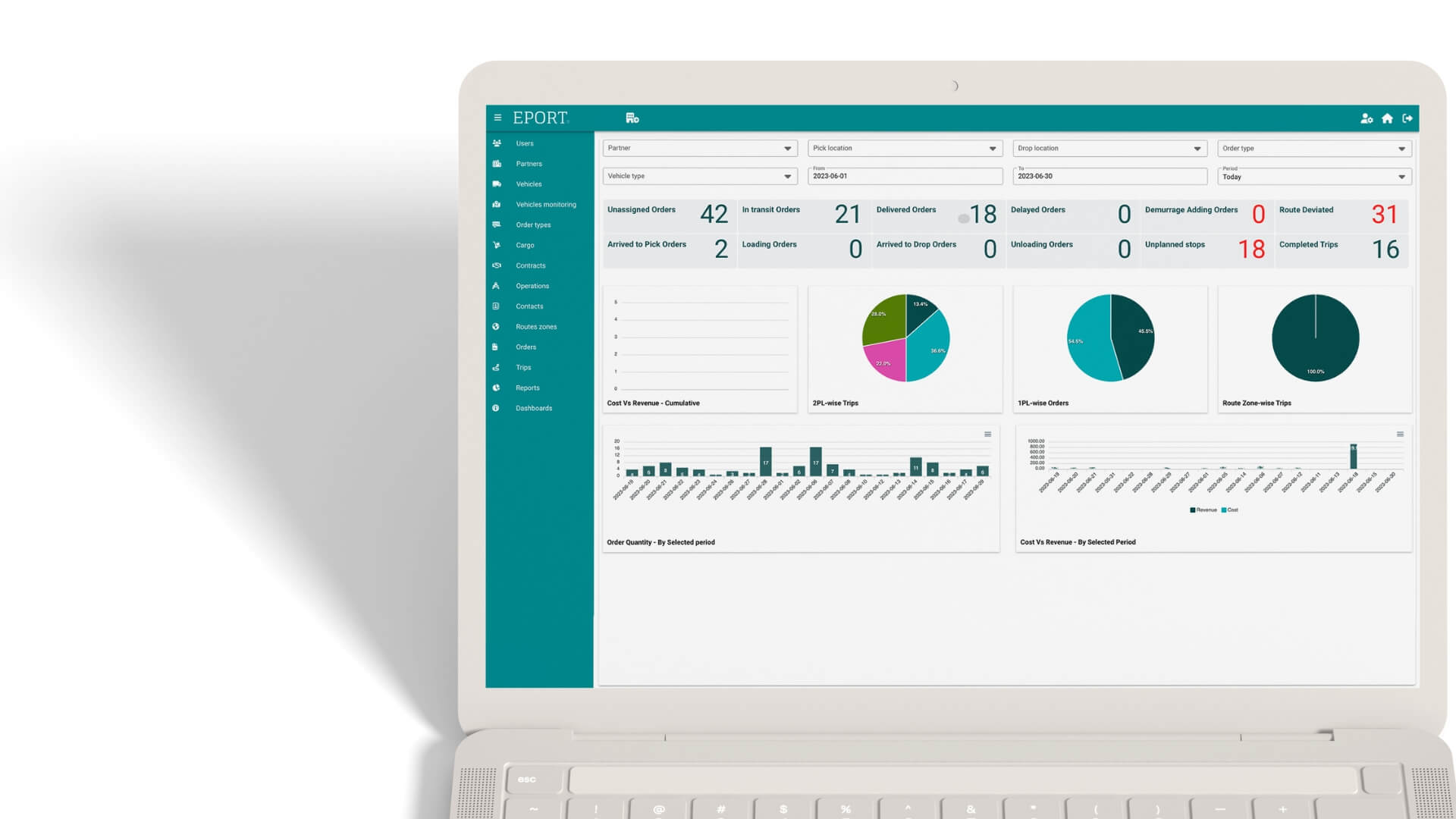 3PLs and 4PLs see the big picture of their logistics operations on a real-time analytics dashboard, including:
Order statistics include loading/unloading, in transit, delivered, unassigned, waiting, delayed, and demurrage adding. By checking problematic orders online, a logistics company can address emerging issues at once.
Vehicle utilization by suppliers allows for identifying the most demanded vehicle types & attracting additional fleets in a smart way.
Analytics – e.g., cost vs. revenue and day-to-day order quantity – will clearly show that your business is moving in the right direction. Or not.
In the end, you can filter the data by the customer, pickup/delivery locations, order & vehicle types, and dates.
5PL level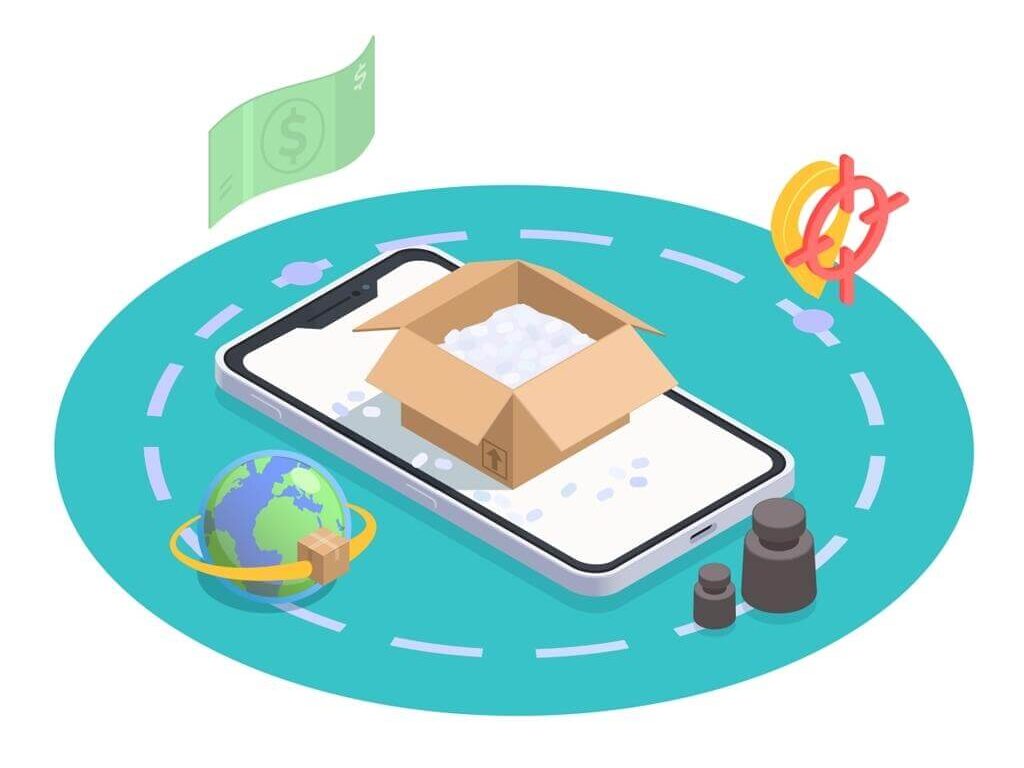 5PL company is an integrator organization in a multi-tenant or multi-regional ecosystem.
These companies provide EPORT software to several 3-4PL companies in the region and manage the service structure on the highest level. Thanks to 5PL companies, 3-4PLs can focus on efficient logistics instead of continuous platform administration.
EPORT exclusive
Billing matrix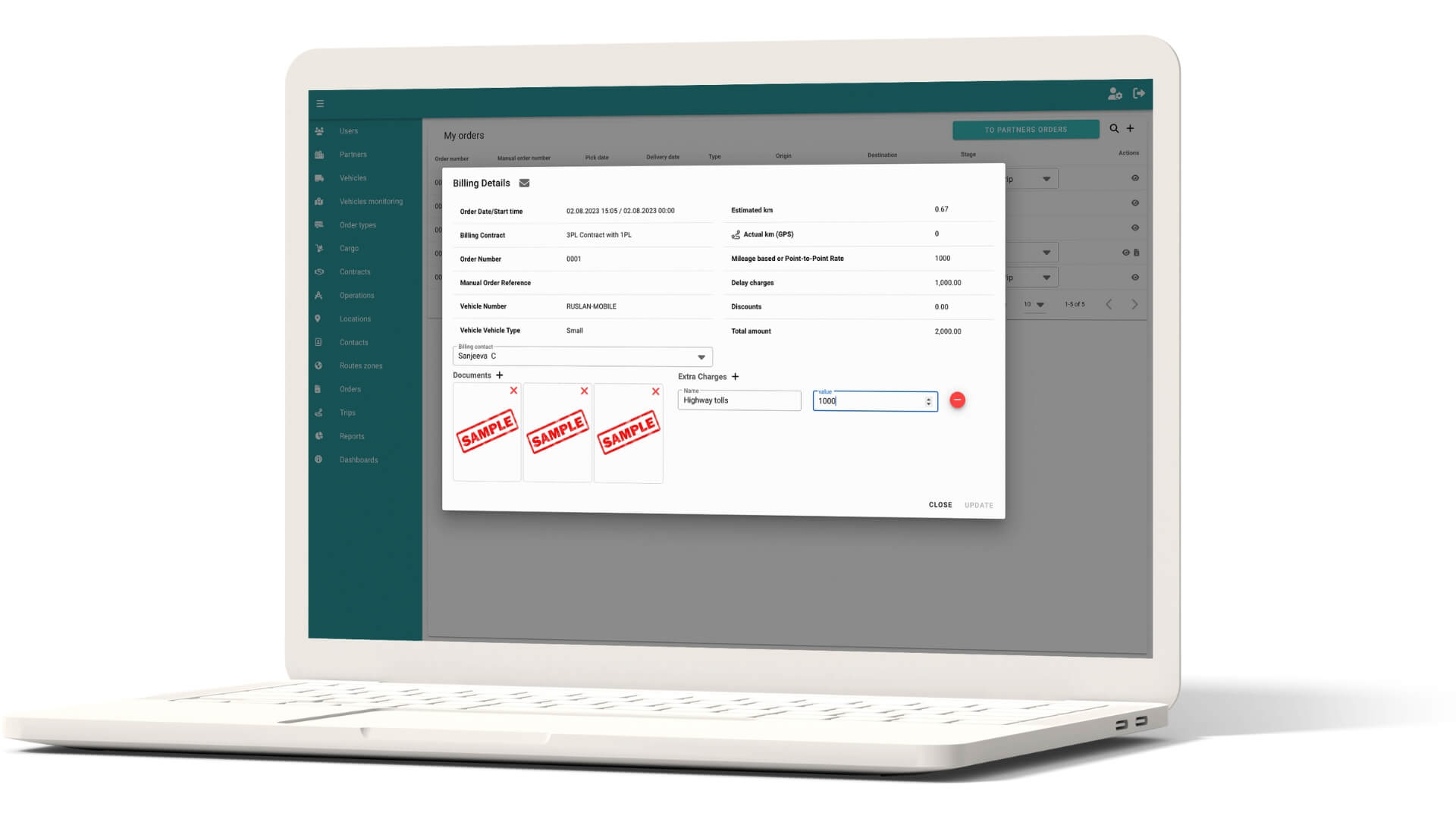 EPORT billing matrix is based on the contracts between cargo owners and logistics operators. These contracts can include any logistics services and their combinations to accommodate the most precise customer requirements.
Based on these contracts, EPORT 3PL logistics software automatically generates billing documents depending on cargo & vehicle types, mileage & delivery volumes, delay fees, extra charges, discounts, and other custom parameters – both for cargo owners and fleet suppliers.
The above helps balance fair prices for customers and 3PLs' interests.
Mobile app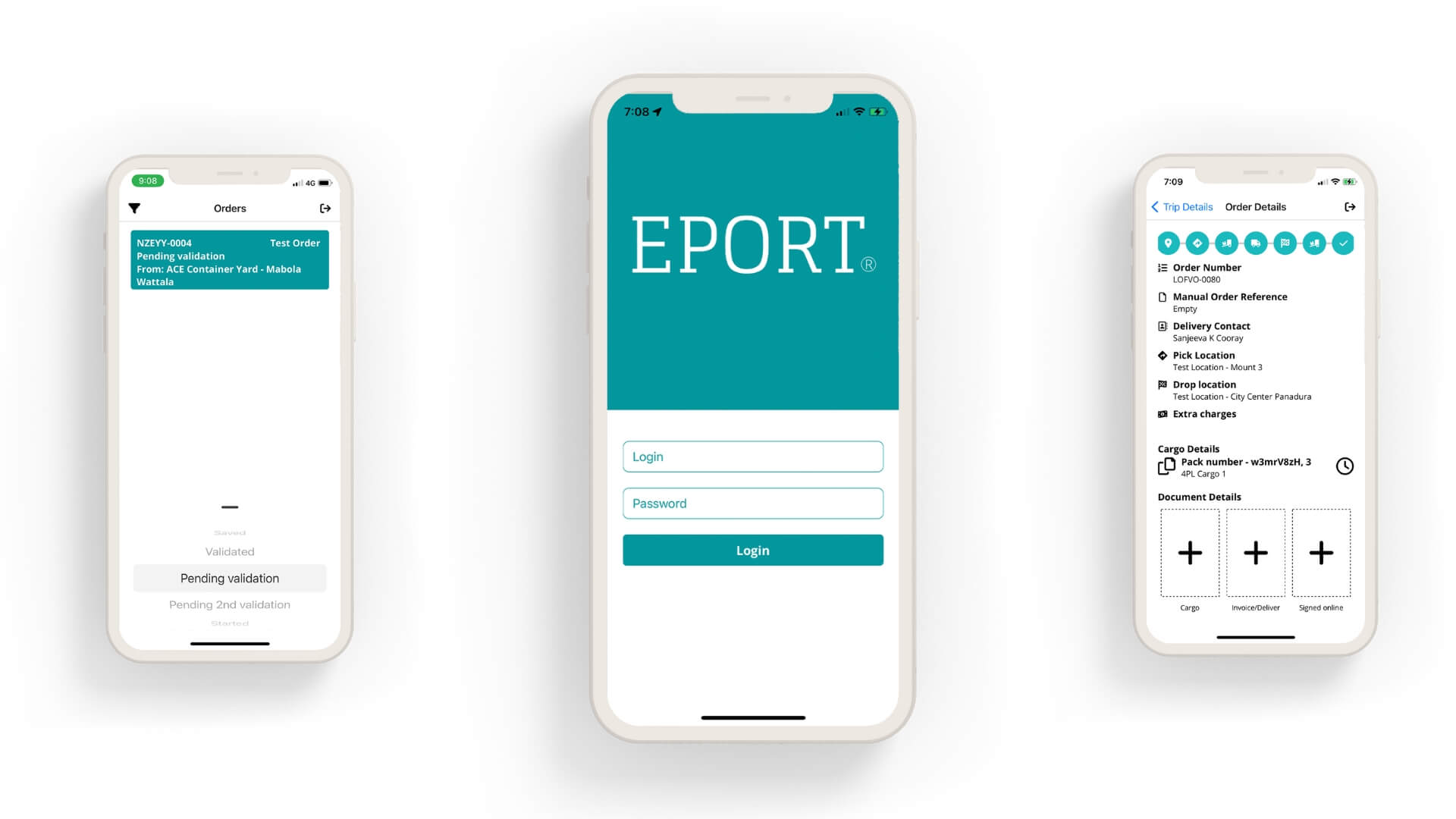 EPORT 3PL logistics software comprises a mobile application that brings trip details to drivers' fingertips and more.
Driver navigation. The app navigates drivers through the route and synchronizes the stop point sequence with EPORT web in real-time.
Package tracking. EPORT app contains data on each cargo item and allows drivers to control the delivery of individual parcels.
Proof of delivery. Drivers can get a digital proof of delivery and upload it to the mobile app to complete the trip.
Document management. By uploading all the delivery-related documents to the app remotely, drivers streamline billing processes in the office.
The app is available for Android and iOS smartphones.
Why EPORT
EPORT is all about saving time and money for all parties involved in cargo logistics.
Zero investments. You can add any number of users, vehicles, and orders at no cost. You pay only for trips that actually happened.
Efficient logistics. EPORT ensures that goods are delivered at the best rates, via optimized routes, on time, and by best-suited transport.
Seamless interaction. Cargo & fleet owners, logistics operators, and drivers cooperate in one system to deliver goods without a single call.
Automated doc flow. EPORT automatically generates invoices, waybills, or any other documents that a logistics company or client may need
Quick Summary
Let's see what you get with EPORT.
A single system covers full-chain logistics.
The latest technologies are adapted to real-life situations.
Service costs are adjusted to your business activities.
Super flexible billing.
Automated collaboration with customers.
3PLs find carriers. Carriers find customers. Customers get advanced logistics services backed by the latest IoT and telematics technologies. As simple as that.