Warehouses get harder to manage with each passing day with stockpiles of goods and machinery coupled with a force of manual labor. This tricky management begins to be a mission impossible when you add the crisis brought by COVID-19. We have to find innovative ways of warehouse management to avert this crisis, and IoT can help us with that.
How does a warehouse work?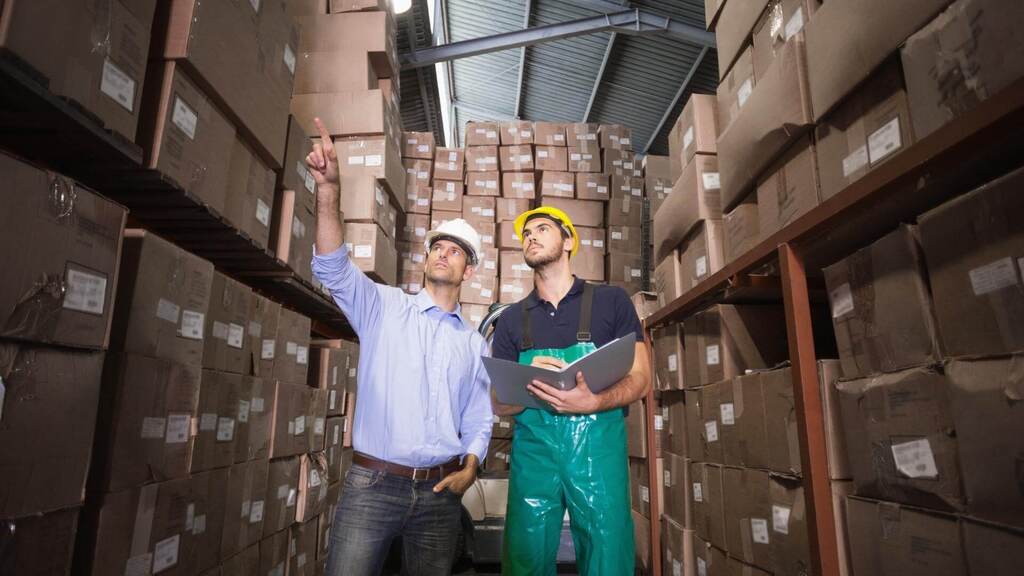 Although various warehouses work in many different ways according to their unique characteristics, there are standard processes to follow:
Receiving Goods
The first and the most crucial process in a warehouse is properly receiving goods. Staff use scanners to verify the products' size, weight, and quantity. Warehouses also take accountability of goods to their hands in this process, being responsible for the quality and condition of the goods till the items leave the building.
Putting away goods for storage
After receiving, the warehouse workers move the goods to the optimal storage location for delivery. They should know about all available spaces and consider cargo size, weight, temperature, and humidity to find the optimal place for the product storage. Staff should also move temperature-sensitive products to cold storage as quickly as possible to retain their quality.
Picking
Products are picked for shipping when an order comes through. Knowing the accurate product locations is vital to saving time and labor. Picking should also be error-free as it directly goes to the customer, meaning staff cannot afford any mistakes.
Packing
Staff pack the goods for shipments to the customer to minimize the damage that occurs after an item has left the production line. The packaging should also be light enough not to increase the weight of the shipment. The manager should be observant about using the correct packing materials for different types of goods.
Shipping
Accuracy and precision are vital to distributing the goods to the appropriate shipments. Goods should be properly loaded, stored, dispatched to the correct customer, and delivered on time. The manager must have a firm grasp on labor management and provide the proper equipment as this is a job done by both man and machine.
Manual warehouse management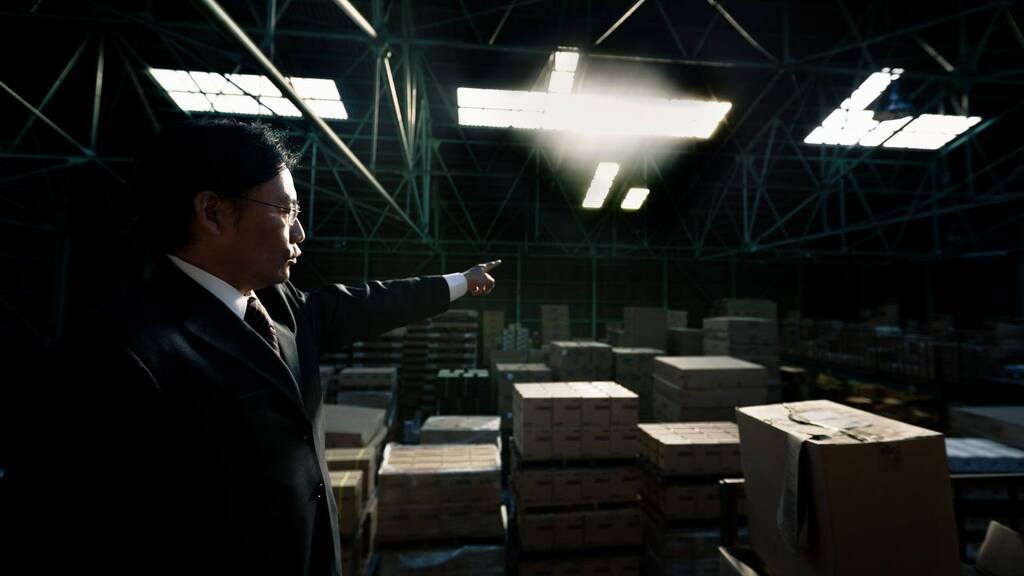 You, as the manager, must be on top of all the manual processes in a warehouse to ensure smooth operation. The above includes the management of goods and employees, the environment, and appliances.
Employee and goods management
A manager tracks the goods to know their location, transportation data, packing date, and shipment types. He carries out inventory management to understand the spaces available and the suitability of the place for different types of cargo. Employee breaks and whereabouts should be manually maintained through CCTV cameras for more workforce efficiency.
Environmental monitoring
Monitoring the external factors surrounding the operations of a warehouse is a prime necessity to retain product quality. These include:
Air conditioners, heaters, and freezers to regulate the temperature;
NFC and RFID tags to obtain additional information;
Proper lighting.
Keeping proper track of these factors leads to fewer costs and more productivity.
Appliance management
A warehouse uses many appliances, including conveyor belts, forklifts, wearables, bar code readers, etc. These appliances should be maintained and kept in a quality condition to gain an optimum work output. Failure to maintain these appliances results in technical mistakes and work stoppages. Hence, the manager should ensure to:
Load forklifts with the correct fuel;
Charge all wearables before the start of a shift;
Check conveyor belts for damages.
Smart warehouse management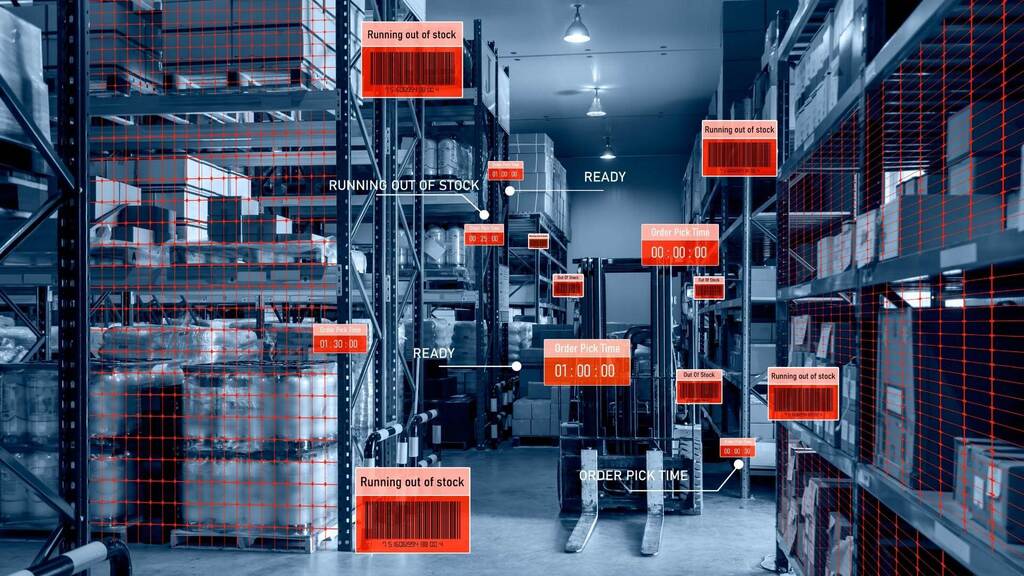 A person can not cope with the pressure of managing so many tasks. But, if you add IoT devices and software, this mammoth process is simpler and more efficient.
The IoT devices for warehouses management
Smart beacons
Use the beacons to see the available slots for the received cargo and track goods movements inside the building. As a result, you can adjust the warehouse space and detect goods affected by storage condition alterations at different parts of the buildings.
NFC and RFID tags
Retrieve data from these tags to remotely manage assets and inventory by scanning the size, manufacturer, expiry date, and serial key of equipment.
Equipment monitoring
Prevent critical equipment breakdowns by adding sensors that detect when a machine is at a critical point with low fuel, no oil, overloaded, etc.
Smart shelves
Install ultrasonic sensors on the shelves to detect the available storage spaces remotely and assist the staff during storage and picking.
Accident management systems
Install sensors to detect gas leaks and fire breakouts.
Energy management
Gain massive savings to reinvest in other sectors by monitoring the electricity, gas, and water consumption of a warehouse. If a pre-set water, gas, or temperature limit exceeds, the installed sensors will inform the operator.
Biometric access
Track the whereabouts of staff by adding biometric and RFID access points in the warehouse. Managers can also restrict access to certain areas for unauthorized employees.
The IoT software for warehouse management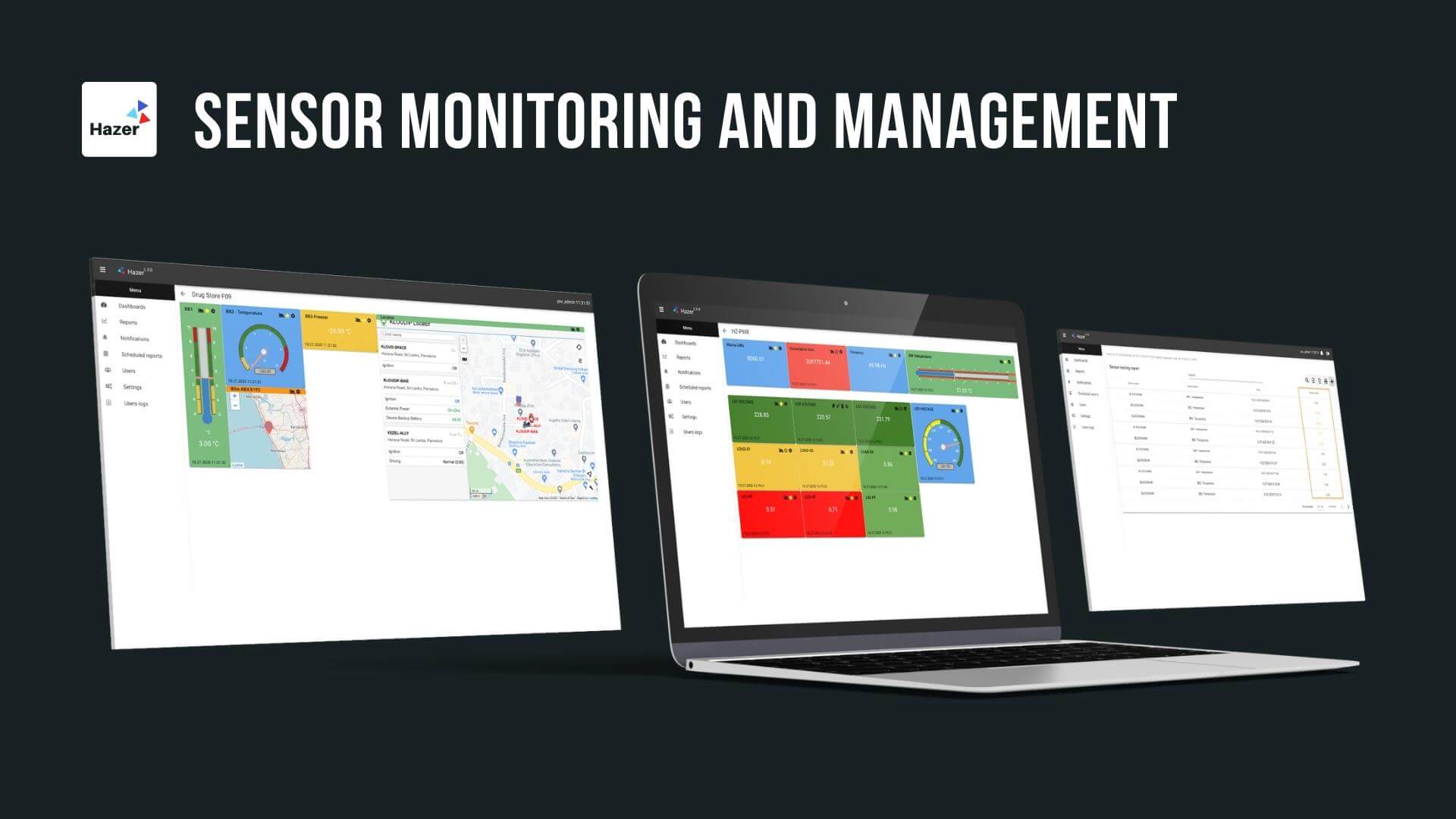 The IoT devices send data to the IoT software used for warehouse management. Let's take HAZER as an example.
HAZER is a secure, reliable, and user-friendly IoT platform designed by KLOUDIP to manage buildings, vehicles, and machinery remotely via sensors. It's a cost-efficient alternative to specialized warehouse monitoring platforms, industrial boards, and on-site maintenance teams.
KLOUDIP connects warehouse equipment to the IoT software for remote management in three simple steps.
Install sensors to monitor various equipment and environmental factors – temperature, gas leaks, smart beacons, storage spaces, etc.
Connect sensors to HAZER IoT platforms via gateways or connect equipment directly to HAZER via OEM hardware. These devices send you the performance and environmental data of the warehouse, even if you work remotely from home or another country.
Create a monitoring IoT Dashboard in HAZER – it will show all the monitored parameters as colored widgets on your laptops or smartphones.
HAZER IoT Dashboard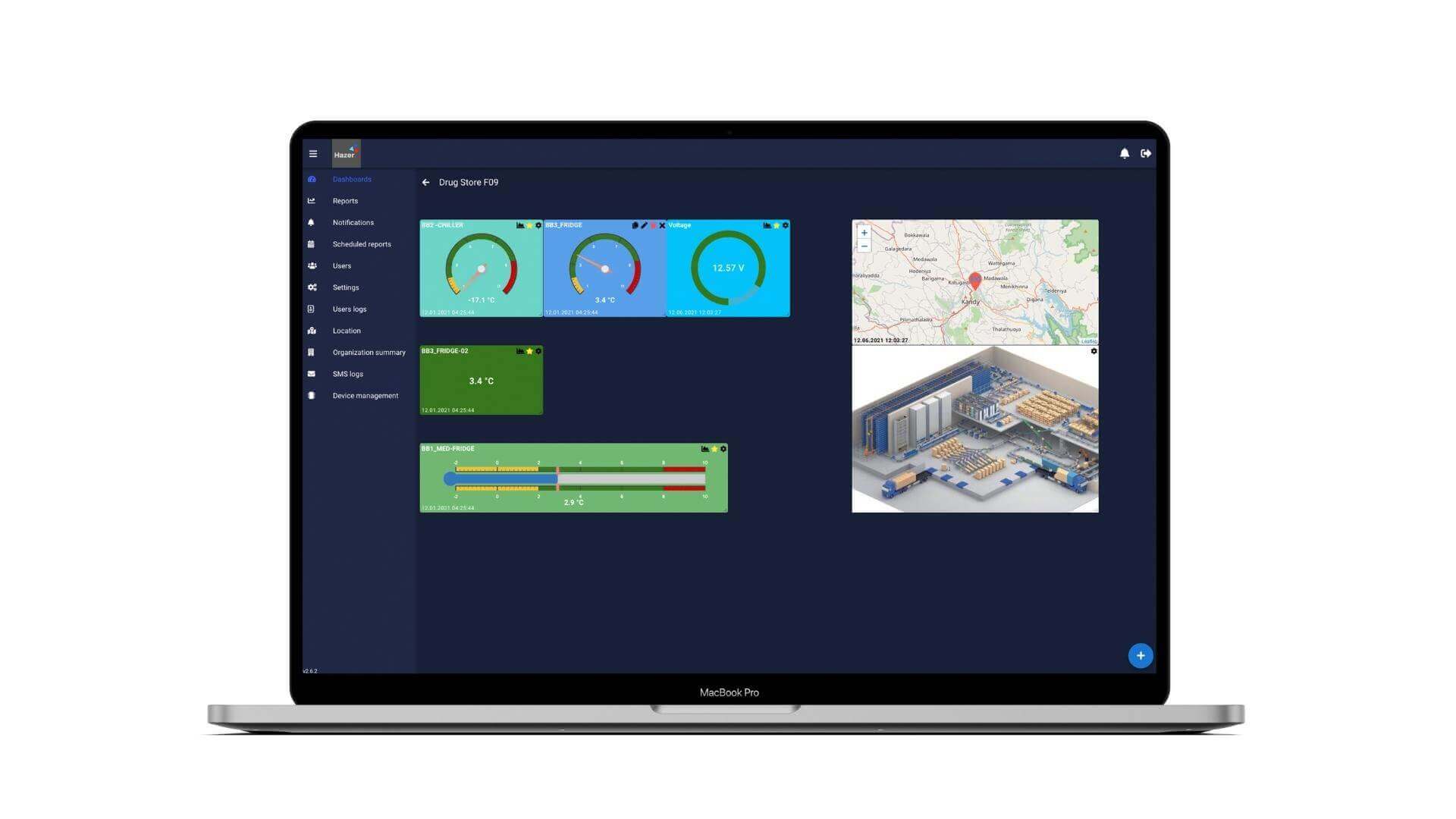 HAZER IoT Dashboard looks like a Start menu in Windows 10. It represents all physical sensors as colored widgets and shows their locations on the map or video.
These widgets change colors when the sensor state changes.
When a worker places a box on the shelf with an ultrasonic sensor, the device detects it and informs HAZER that the space is occupied. The color of the sensor widget changes, and the warehouse manager knows that he can't place anything else there. No manual checks are required.
The same happens if a sensor detects gas leaks, temperature variations, unauthorized access to facilities and goods, equipment failures, and unusual energy consumption.
You also can create a separate dashboard for each piece of equipment, parameter, or facility, for example, individual dashboards to:
If something goes wrong, widgets will change colors, and the system will notify an operator or a responsible person via SMS, emails, pop-up notifications, or messengers in real-time. An operator can manage the equipment remotely via commands if something goes wrong and no one is near the equipment.
You also can outline how HAZER should behave in a particular situation in advance. If an incident happens, HAZER will act according to the given instructions. For example, if the system detects a gas leak, it turns off all operations and sounds the emergency alarm.
You can manage your warehouse from the comfort of your home via a mobile app or a laptop. There are also no downtimes or data transfer delays. HAZER remains stable when handling millions of messages and boasts 99.9% monthly availability.
Get your management system from KLOUDIP or learn more about the HAZER IoT platform by contacting us.