In July 2020, KLOUDIP launched GOFER – the software for staff transport management. To understand why a company may need such a solution and why we call it "corporate Uber," let's imagine this:
A company is a city with its dwellers and transport. Ten years ago, one could catch a taxi with a wave of a hand or by a phone call.
In the former case, individual drivers perform the rides, not a taxi service, so no receipts, fluctuating prices, or expense tracking.
In the latter case, it takes time for a taxi dispatcher – to accept an order, contact a driver, call back the client, log the ride details, etc.
The above may work with a small number of requests, but as urbanization gathers pace, people demand a more efficient solution.
At some point, Uber came into play to offer people simple taxi booking, transparent pricing, and automated payments at the very least. It digitalized all the processes and united drivers, clients, and dispatchers in one interface.
That's what GOFER does with corporate transport. But unlike Uber-like services designed to increase revenues for taxis, GOFER focuses on transport cost minimization.
Why may a company need a staff transport management solution?
An employee – sales, service, management staff – needs a ride, and that's what he needs to do.
Before GOFER
An Employee fills in a paper form and passes it to the Manager –>
The Manager signs the form and passes it to Transport Department –>
Transport Department Dispatcher looks for a vehicle, contacts a driver, schedules the ride, and calls back the Manager –>
The Manager informs the Employee –>
The Driver calls the Employee when he arrives –>
Upon ride completion, the employee takes a receipt and passes it to the Manager or Transport Department –>
Transport Department files all the receipts, calculates mileage, and verifies it with Drivers (even if GPS is on board).
It takes seven steps, but you lose days on calls and approvals.
With GOFER
The Employee requests a vehicle on his laptop – just like in the Uber app –>
The Manager looks into details (purpose, timing, etc.), approves or rejects the ride in a click –>
The Dispatcher assigns the vehicle of the appropriate class. No one else can get this car when it's booked already –>
GOFER notifies the Employee, that the Driver has arrived. Upon ride completion, the Driver already knows how much he earned –>
GOFER automatically calculates mileage, prices for passengers, payments to drivers, generates billings documents, and stores them in the system.
It takes five steps without a single word.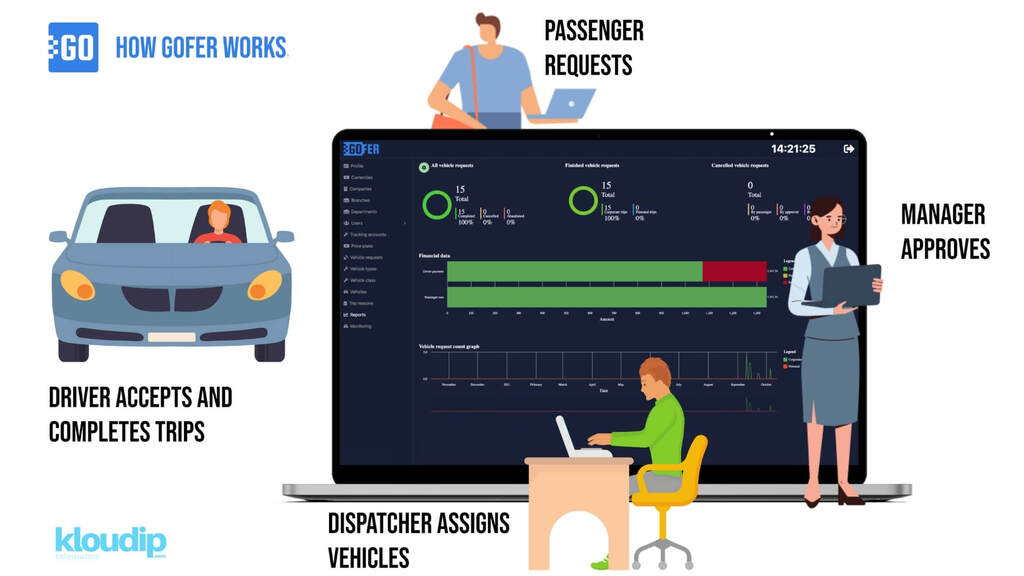 Transport Department handles such requests in minutes, employees depart as scheduled, managers can control workers outside the office. We've already explained what GOFER is and how it works in businesses, and today we focus on GOFER 2.0.
In the new version, we enhanced the best parts of the solution and eliminated its weak points.
Check out the video, explaining how it works and the value it brings to a company like yours:
…or keep reading below.
Performance
In GOFER 2.0, we refined the solution architecture. Now the solution runs faster and smoother. You'll feel it when switching between tabs, watching vehicles on the map, generating reports, and performing other vehicle management tasks.
Access rights
GOFER 2.0 was released as a staff transport management solution, so KLOUDIP added ACL to manage company cars at different levels:
Company and branch admins
Managers
Dispatchers/Transport Department Specialists
Employees
Drivers
In GOFER, all users operate under the same account, but each has access to different sections and features of the system, specific to their job roles. For example, a branch admin has access to all tabs and distributes access rights, while an accountant can only work with the "Budget" and "Currencies" tabs.
Being under one account, all persons involved in corporate transport management remain under the supervision of one transport manager.
Finance roles
In GOFER 2.0, KLOUDIP added new Corporate and Branch Finance roles. These are top-level users that manage budgets – allocate maximum transport spending for each department or branch. Finance specialists can add or redistribute the budget at any moment.
For example, the Sales Department exceeded the budget for traveling to clients, while the Service team has made only a few rides. The Sales team can't request vehicles anymore.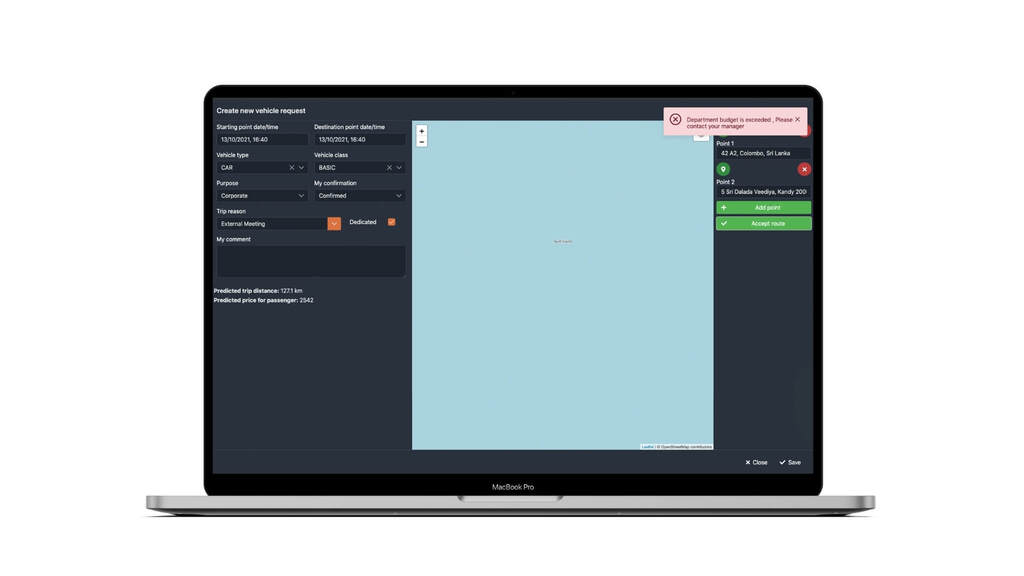 In that case, the Finance specialist can allocate the "Service" transportation budget to "Sales."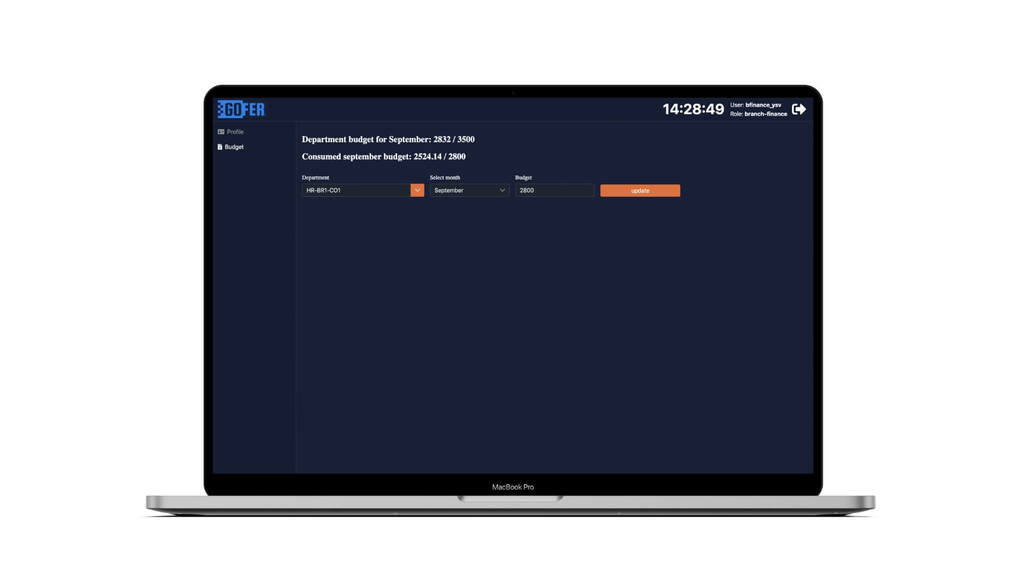 Currency tab
Among GOFER users, there are companies with offices located in different countries and even on different continents. To simplify accounting, KLOUDIP added an option to select the currency for each branch, thus simplifying calculations.
Vehicle request list
When an employee requests a vehicle, his booking appears in the "Vehicle requests" tab available for admins, managers, and dispatchers. Here, they can see detailed info on each request – passenger, destination, time, purpose, mileage, and much more.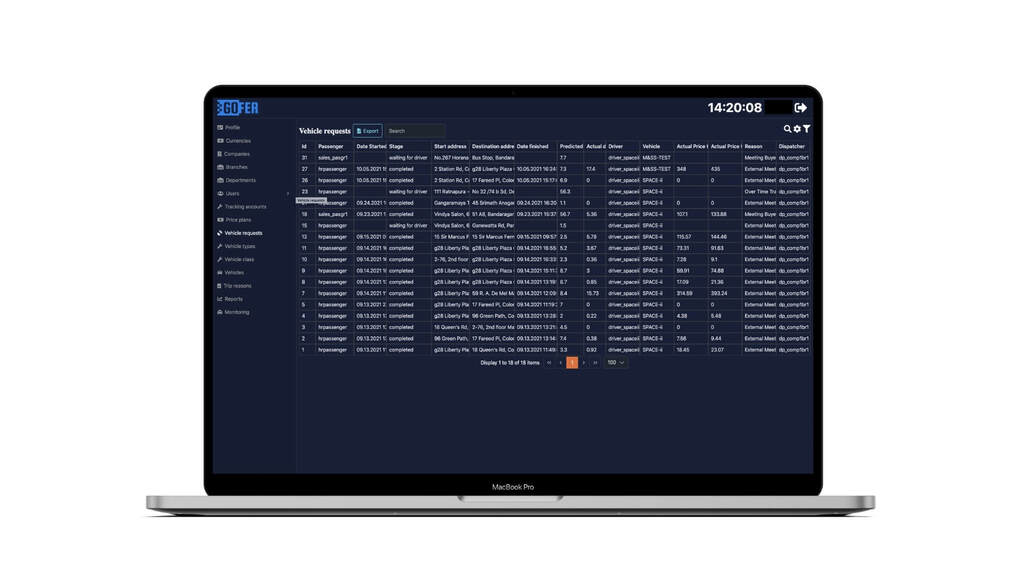 To help managers find the necessary request faster, KLOUDIP added additional filters to the list:
Waiting for approval by a manager or dispatcher. Find these requests and fast-track the approval process.
Pending driver acceptance. See the requests hung up at the last stage and contact the driver to know the reason.
Rejected by a manager or dispatcher. This filter lets service administrators know the reason for order rejection and decide if it's adequate or not.
Completed. Select this to view additional information on completed trips, including actual mileage and trip cost vs. planned.
Active. Use this filter to overview company car usage in real-time.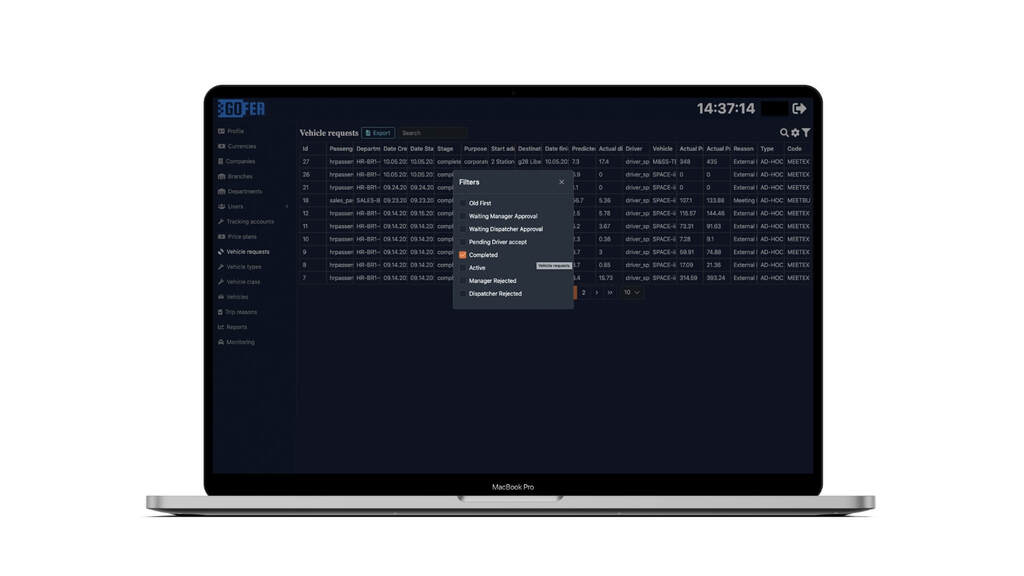 In the hands of a good manager, these filters will expedite the car booking process.
What's more, on this tab, you can click on each request to access detailed information.
In GOFER 2.0, KLOUDIP added the map to every request. It shows planned vehicle tracks and actual tracks for completed trips. By comparing both, you can see if the driver took the optimized route, if there were deviations, and how it affected the ride price.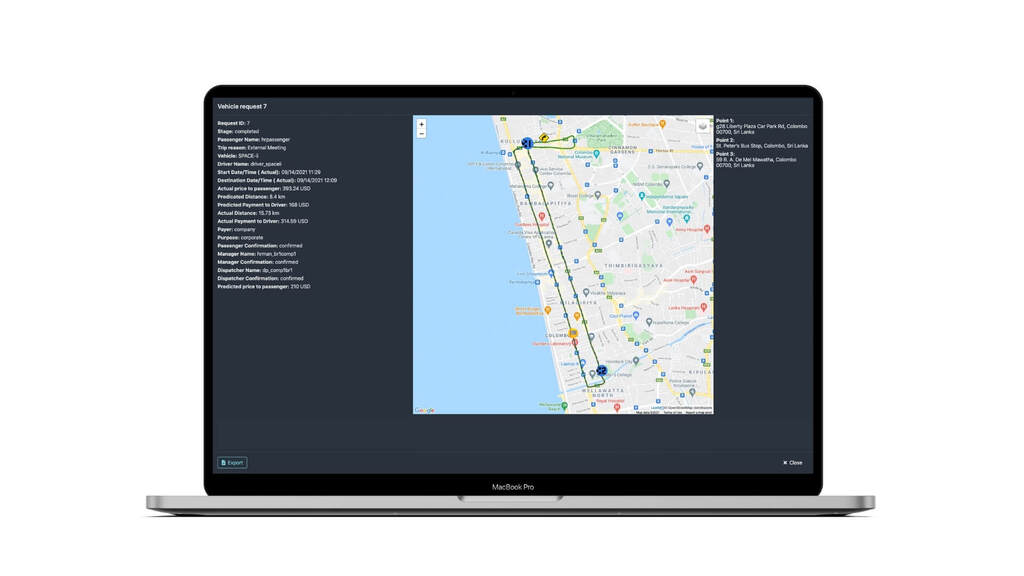 New vehicle requests
An employee can request a vehicle on his laptop. The process takes minutes, select:
The date and time;
Starting point and destination for route building. Add multiple points, if necessary;
Vehicle type and class, which may be different for managers and employees;
Purpose – to distinguish between corporate and private rides;
Trip reason describes the trip in more detail and helps managers find your request faster by this field.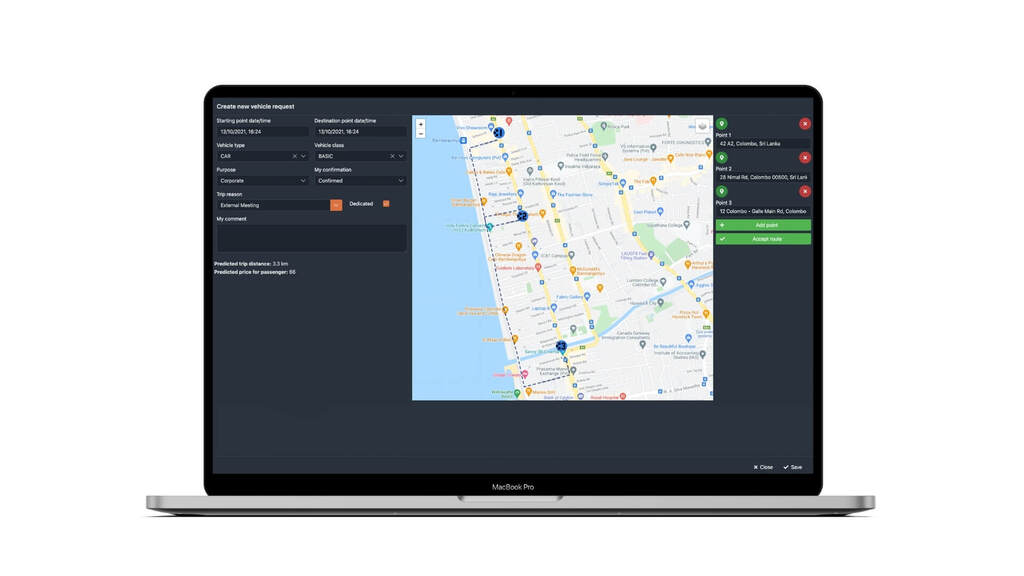 And add comments if there's anything a manager or dispatcher should know in particular.
Trip reasons
It's a new tab added in GOFER 2.0. Here, you can specify various reasons why an employee may be taking a ride. Here's how to do it:
Select the company and branch, as employees at different locations, may have various reasons to travel. When an employee creates a new vehicle request, he will only see the list of reasons specific to his office.
Specify its type, for example, one-time or recurrent.
Add a code that will help managers and dispatchers find the request by its reason.
Provide a description – more detailed information about each trip.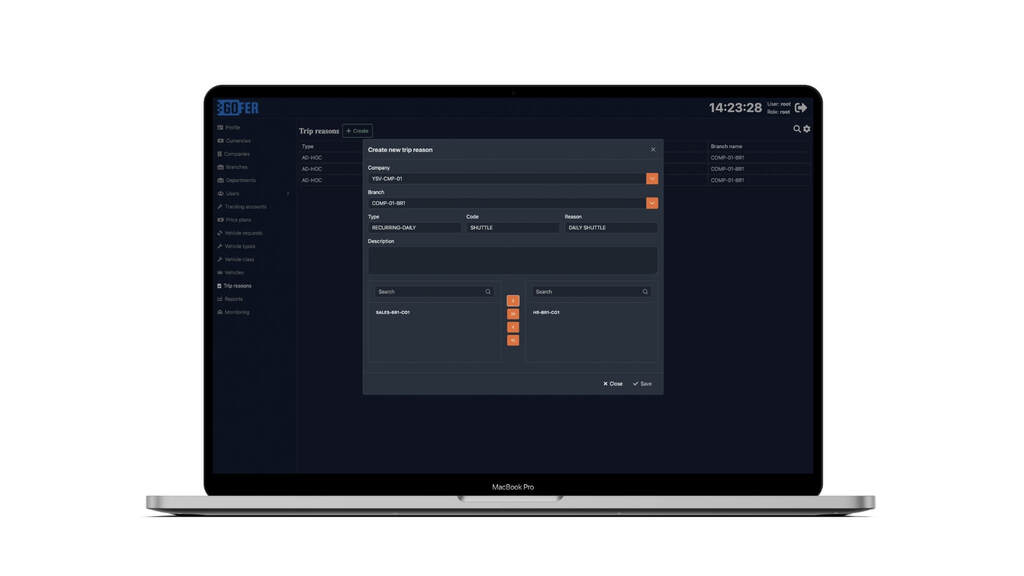 Pre-set trip reasons will allow employees to choose it when creating a vehicle request, instead of describing it every time from scratch.
Reports
GOFER is more than a corporate car booking system, but a complete staff transport management solution that provides detailed analytics on company cars:
Who uses the company cars, and for what purposes?
How many vehicles are available, on trips, and what is the peak period?
How much do you pay for employee transportation, and who of the drivers performs best?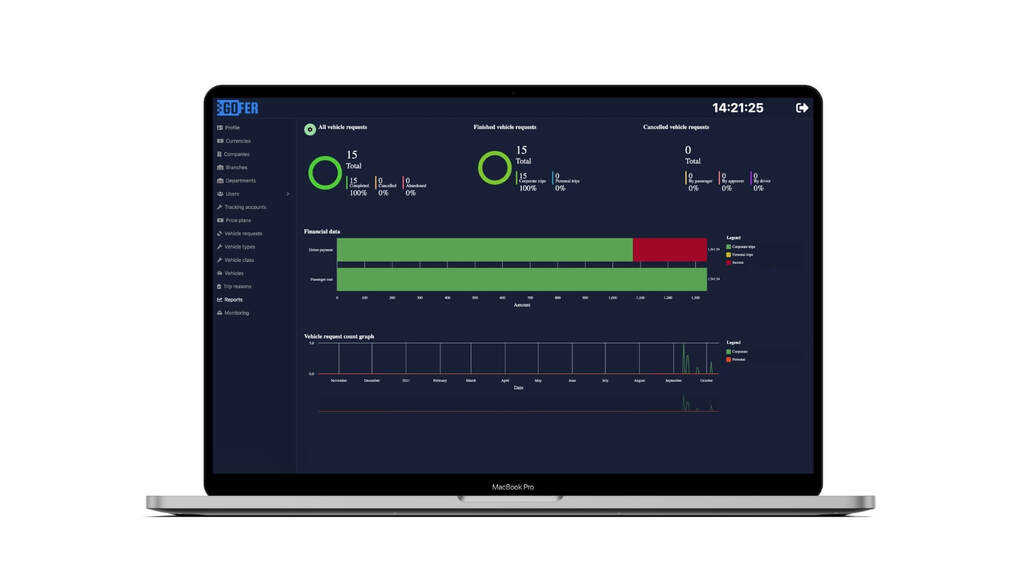 At the moment, the report may comprise 20+ parameters. As GOFER 2.0 reports became more detailed, KLOUDIP added an option to select columns to be displayed there. It allows managers to focus on the important information only and make reports more clear.
Other features
Several tabs migrated to GOFER 2.0 without changes. Let's have a quick summary of what else you can do in GOFER.
Companies, branches, departments, users
Being a transport management system, GOFER allows creating a detailed corporate transport structure – add companies, branches, and departments. Having all the information stored in the system is more useful than you may think:
Employees don't need to enter this information every time they make vehicle requests.
Administrators can generate reports on specific branches and departments.
Managers can control only vehicle requests submitted from their departments.
Moreover, service administrators can create users and assign access rights, considering their job responsibilities.
Vehicles, their types, and classes
Dispatchers assign requests to cars registered in the system. Administrators can add vehicles, indicating their types and classes.
After that, when an employee creates new vehicle requests, the system will suggest selecting:
Vehicle type, e.g. passenger car, van, bus.
Vehicle class, e.g. economy, comfort, luxury, SUV
Knowing the information, a dispatcher will assign the right vehicle to the right employee(s):
A luxury car for managers.
A minivan for multiple employees.
A bus for daily staff transport.
Monitoring tab
GOFER features GPS tracking features for all vehicles registered in the system. It means that dispatchers can see how the driver performs the ride on the map rather than wait for reports.
GOFER driver app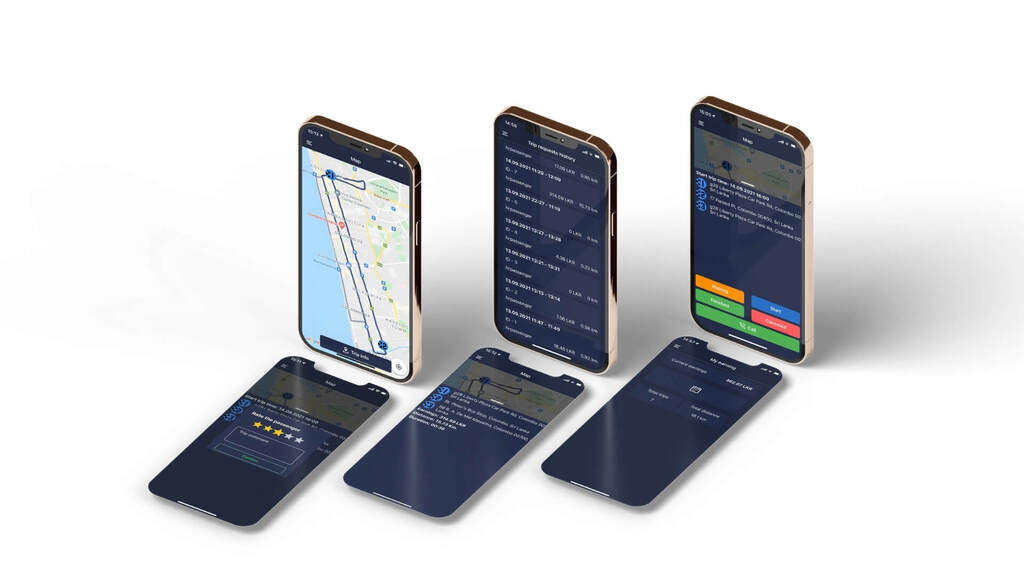 GOFER offers a mobile application for drivers. They mostly use it to track earnings – the app tells the driver how much he earned after each trip based on mileage, the number of rides, or time in trips.
Apart from it, the application connects the drivers with dispatchers and employees. In the app, they can:
Send status updates and notifications to employees in case of emerging circumstances.
Accept or reject requests.
View passenger profiles to take the right person on board.
Plus, it navigates drivers to the destination via Google Maps and allows them to rate passengers upon ride completion.
GOFER benefits
Now you know the new features of GOFER, so let's see what value they bring.
Process automation. From vehicle requests to trip management and reporting – all done in a few clicks. Just compare the time you spend on filling in a vehicle request application and booking a car on Uber.
Car sharing. If you see that several people are going in one direction, you can merge several requests into one and let employees share the car. That way, you can utilize the car fleet more efficiently and cut transportation costs.
Analytics. Detailed reports show how to improve logistics and pay less for employee transportation.
No paperwork. Billing documents, requests, approvals, ride logs, and transport catalogs are stored in GOFER and available anytime.
Last but not least, GOFER can look like a part of your in-house software suit. For that, we can replace the GOFER logo with the one of your company so you can enjoy GOFER under your brand.
If you want to connect your company vehicles to GOFER, it doesn't necessarily entail investments into additional hardware. GOFER works with all types of GPS devices on the market, so in most cases, we can connect any car with a GPS tracker or factory-installed telematics to GOFER.
Do your employees take company cars for business and private rides? Then GOFER is a perfect fit for your business. Contact us to learn how much time and money you can save with GOFER.