In February, KLOUDIP updated its core IoT and business transport management software. 
GOFER – the platform for staff transport and business ride management.
HAZER – the IoT platform to monitor sensors installed in vehicles, buildings, machinery, and equipment.
Let's see what's new.
GOFER for business transport management
In February, KLOUDIP upgraded GOFER mobile app, plus extended ride management and expense tracking options.
GOFER mobile application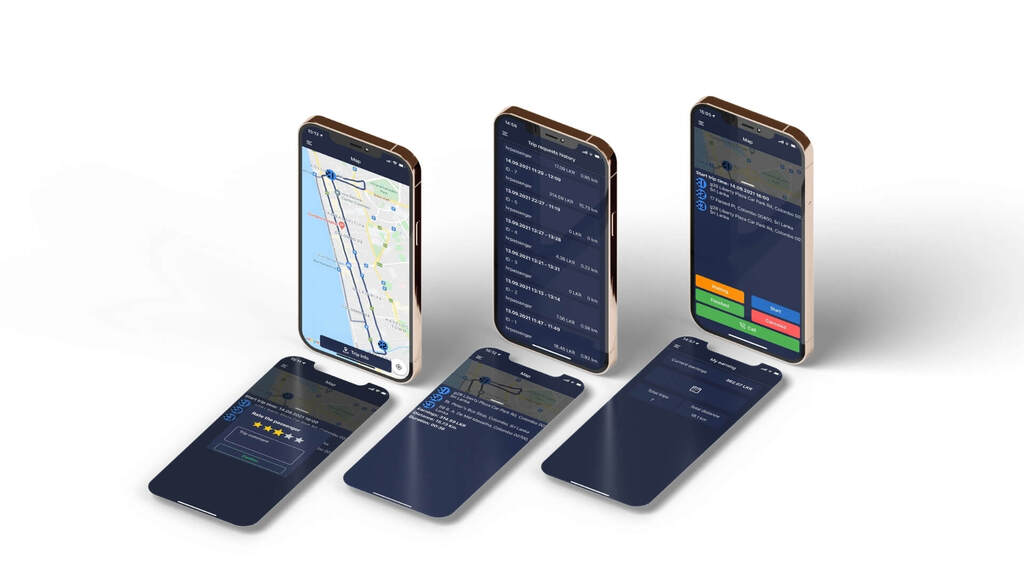 GOFER is an Uber-like business transport management software that automates company car booking by employees, expense tracking, and optimizes vehicle usage.
Just like Uber, GOFER offers a mobile app for drivers, where they can accept or reject rides, track earnings, rate passengers, and navigate to the destination via Google Maps.
In February, KLOUDIP added new user roles – dispatcher and manager – to the mobile app. Now, they can manage employees, transport, and car bookings on the go. Here's what they can make in particular.
Manager role
No one knows the staff better than managers. They know the employees' workload, tasks, plans, and goals of each person in their department. Initially, they decide if a person can go somewhere on business or not.
With the GOFER app, when an employee makes a vehicle request, the manager gets a pop-up or email notification on his smartphone. By tapping on it, the manager can view the vehicle request details, approve, or reject it. The latter happens, for example, if an employee has too many tasks or the off-premise meeting is not in his plan.
Dispatcher role
Just like managers, dispatchers can accept or reject rides in the app. The latter mostly happens when there are no available vehicles for the date and time.
But dispatchers aren't confined to this. After accepting the request, they decide which vehicle and driver to allocate to this ride. For example, if six people are traveling, he will select a van, and if the CEO leaves for the meeting, the dispatcher opts for a luxury car.
All the above he can now do on his smartphone, no matter if he's in or outside the office.
Driver role
Driver role doesn't change much, but there was a problem:
With smartphones in their pockets, drivers could accidentally complete the trip with their hips. After that, GOFER considered the trip finished and stopped counting driver earnings for the ride. In the end, the dispatcher had to do it manually.
To avoid such situations, KLOUDIP added a button to confirm trip completion. Now, there's no chance that a driver accidentally completes the trip and loses his earnings for the rest of the way.
The most important thing is that all these roles work in the same app, but the interface and available features differ depending on the role.
Recurring rides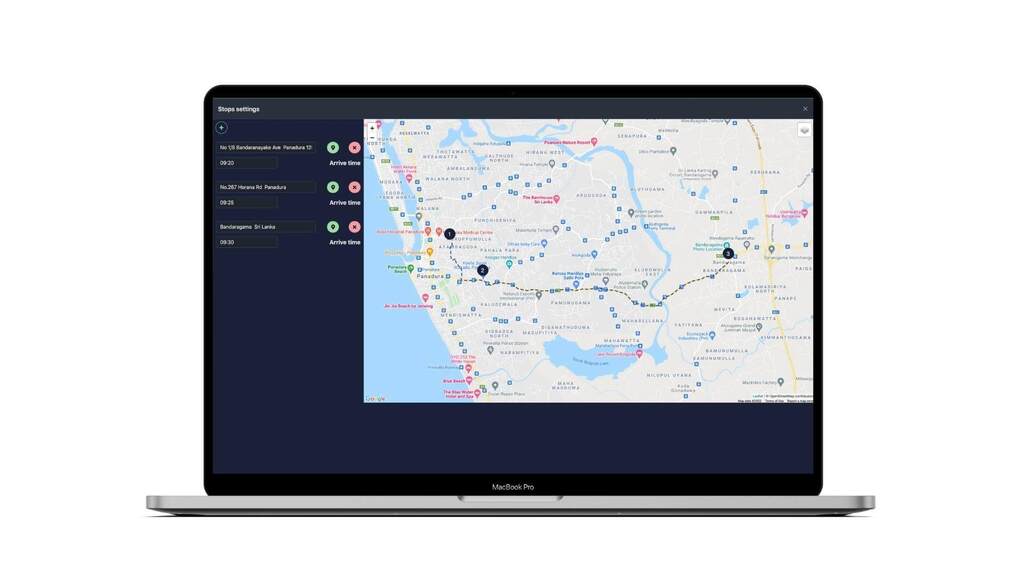 Sometimes, company transport takes the same routes every day, e.g., to transport employees home and back or to multiple branches. To manage the shuttles, somebody had to request transport, accept the rides, and allocate vehicles EVERY DAY. To avoid the routine, we've introduced recurring rides that make everything simpler:
A dispatcher creates such a ride and assigns a vehicle to it.
Then, he adds route points and visiting schedules.
Finally, the dispatcher selects the dates, e.g., weekdays, to transport employees to work and back.
Additionally, he can add a driver payment calculation matrix – per mileage, the number of trips, or time in trips.
This request will appear in the system on the scheduled dates and times.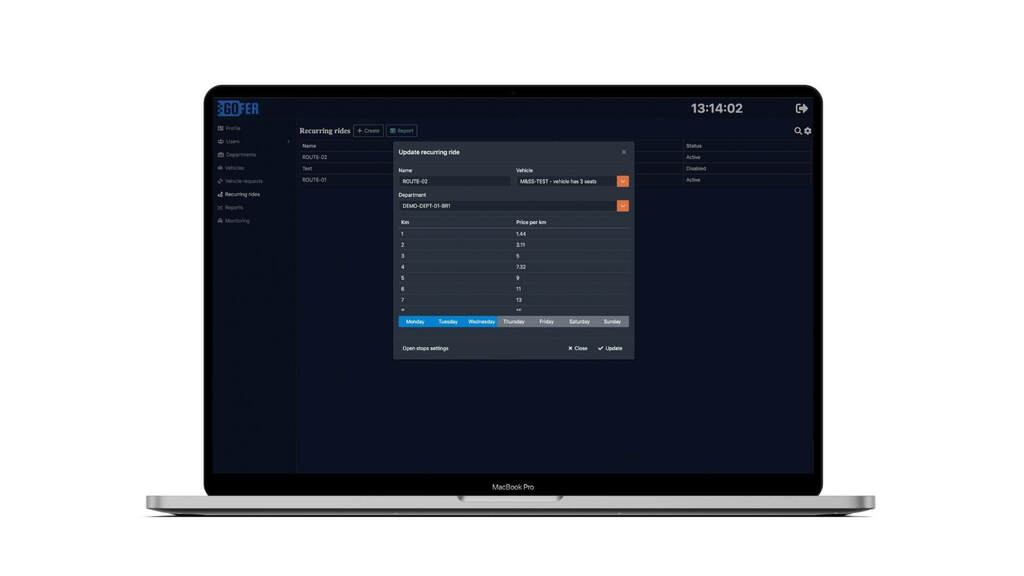 On the part of drivers it looks like this:
After a dispatcher creates a ride, the assigned driver gets a push notification on his smartphone.
The driver can view the request and accept or reject it.
When the time comes, he starts the trip.
After its completion, GOFER calculates mileage and driver payments based on GPS data.
At the end of the month, a company downloads a detailed report and pays drivers based on the actual data.
Extra spendings
Driver salary is not the only expense that GOFER can track. Sometimes, the company reimburses other expenses, like fuel, highway tickets, maintenance, unplanned maintenance, etc.
Since the February update, a driver can upload all these and other receipts to GOFER. As a result, all driver's expenses are stored in the system and never lost, unlike paper bills. That way, the exact amount spent by a driver will be reimbursed. No more, no less.
Hazer IoT platform
HAZER IoT platform allows monitoring sensors installed in vehicles, buildings, and machinery. It shows all sensors as colored widgets on an IoT dashboard. The widgets change colors if something happens, and the operator receives alerts.
Many companies use HAZER to monitor moving objects, like refrigerated trucks, so they need to know temperature values and their trucks' locations. For that, KLOUDIP added a GPS tracking interface to the IoT platform – the Location page.
In February, the page got a new look and updated design. Now it can contend with specialized fleet management platforms. As you see, KLOUDIP has merged IoT and GPS tracking. Enjoy!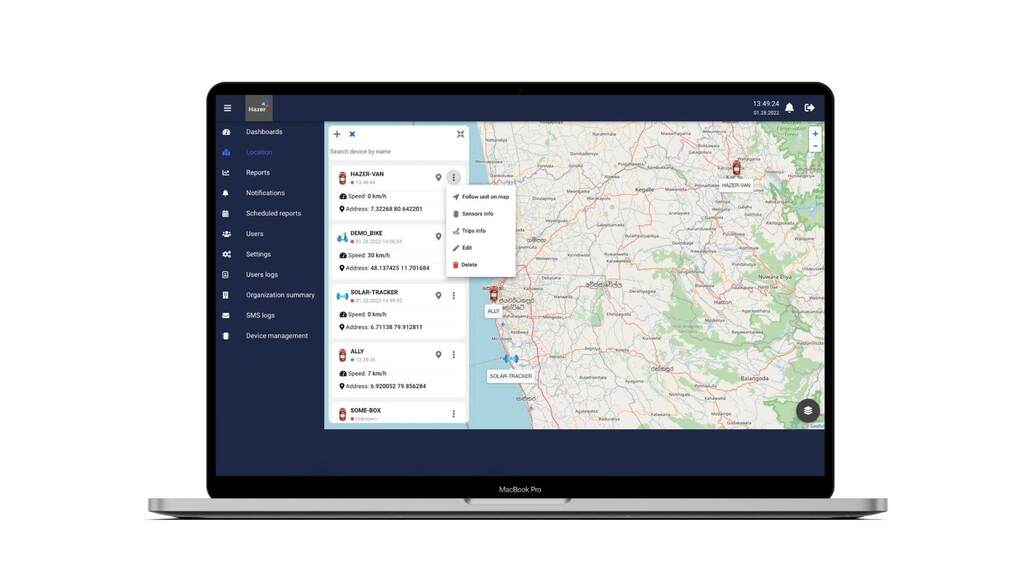 That's all about the IoT and business transport management software in February. Need to manage company cars, buildings, or machinery? Let us know, as we have a few solutions for you. And each of them gets better every month.