KLOUDIP were among the first to offer a video monitoring system as a part of fleet management. At that time, video telematics offered advanced vehicle management opportunities, but there have also been restrictions.
Opportunities:
Live video streaming. Fleet managers watch transport and drivers in real-time. The fleet management software supports dual-lens cameras, two-camera or four-camera systems for live streaming, and mobile CCTVs.
Event-based monitoring. Dispatchers receive 15-second video footage if something happens with a vehicle, like an accident, dangerous driving, or deviation from the route.
Advanced-driver assistance systems. The camera analyzes the road and the driver's state and helps to avoid accidents. For example, if the driver approaches too close to another vehicle or is distracted by a phone or smoking.
Video reports. Using commands, a user can request a video from an MDVR or generate a report with video files to analyze events on the way.
Check out ADAS in action:
Restrictions:
1. Storage for video surveillance. If somebody needed real-time video monitoring, they had to install a server or use shared third-party servers. At the same time, many potential users of the video monitoring system demand that video data be stored in-house to make sure the video is not lost or stolen.
Check out the story of an educational institution, that gave up on real-time video monitoring as they didn't want to invest in a server.
2. Hardware configuration. Each new MDVR module required a complex configuration to work with the fleet management platform.
3. No dedicated video player. The player was embedded into mini-maps windows, also used for individual unit tracking, Google Street View, additional information, etc.
Since then, the company has been updating it to present the all-new video monitoring solution in 2021 without restrictions.
What's new in the video monitoring system?
Check out the most significant modifications that allowed us to lift all the restrictions above.
Amazon Web Services
To ensure data protection, integrity, and transfer speed, KLOUDIP integrated its fleet management system with the Amazon cloud computing platform. It means that Amazon now takes up all activities associated with server deployment and administration, and you can store important video fragments in the cloud.
Mobile DVRs now seamlessly send video data to the fleet management system via AWS – there's no need for additional configuration of video cameras for each separate server. 100% of MDVR features become instantly available in the fleet management software, including video playback, search, saving, rewind, fragment replay, etc.
Video interface
FiOS fleet management software got a dedicated video player in a separate tab. All the magic happens in your browser, with no need to switch between apps and even tabs:
Select one or multiple vehicles to watch
Organize video monitoring dashboard
Zoom, save, delete, filter – manage live and historical videos on the go
All the above allows building a video surveillance center in minutes and watching dozens of vehicles on a single screen.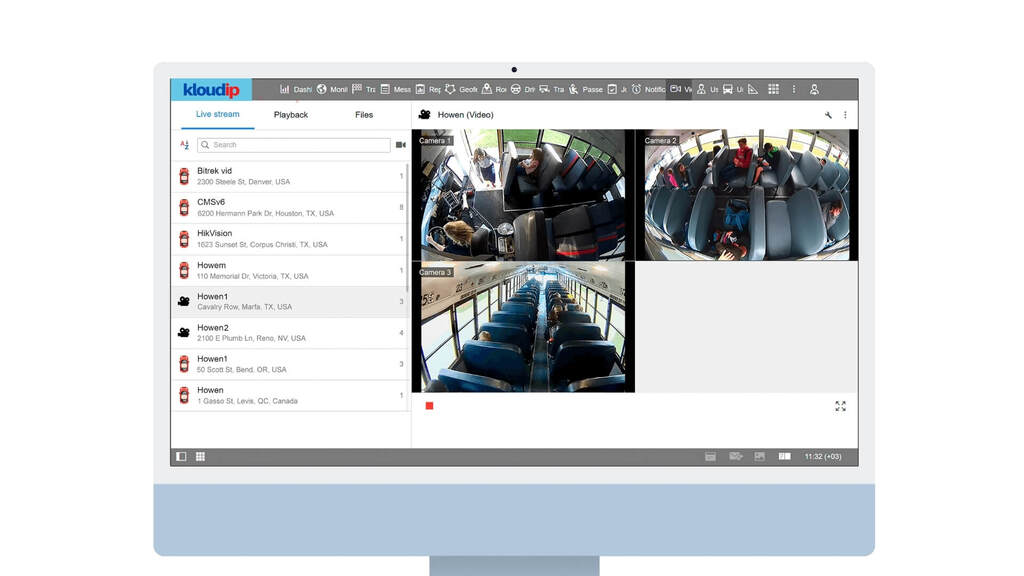 Video history
Even the most committed dispatcher can't watch 24/7 with the same efficiency. Moreover, if something happens, there's no way the dispatcher can analyze the accident in seconds. In such cases, analyzing historical data becomes even more crucial than live video monitoring.
In the updated video monitoring module, we've made working with historical videos more convenient.
At any moment, a fleet manager can request a 30 to 60-second clip within the past 24 hours (or even more if the company uses MDVRs with larger storage).
The user selects the vehicle, video monitoring camera, and time when the event supposedly happened.
The FiOS system creates a timeline for the period, just like in QuickTime, VLC, or whichever player you use.
You choose any moment on the timeline to replay and analyze.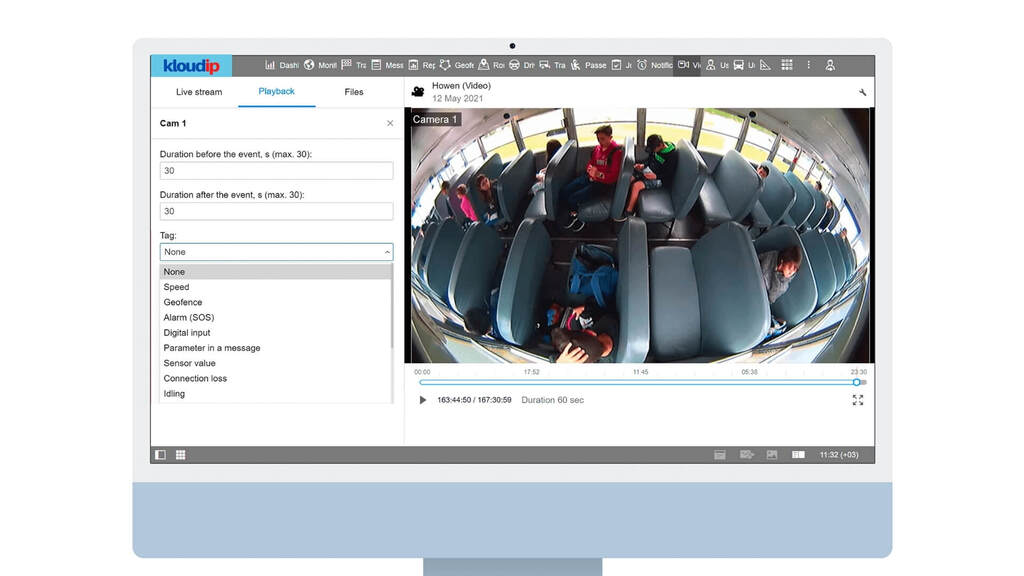 Saving video files
If you consider part of the video important – for example, a video surveillance camera captured an accident, theft, or traffic violation – you may want to share it with managers or colleagues.
Good news – there's no need to download and share the whole video with timecodes. The new video monitoring module allows saving a part of the video right from the fleet management interface. You can do it manually or automatically.
Automatic video saving
FiOS notifications inform users of what is happening with their assets and trigger various processes in the system.
For example, the system can alert you that the vehicle is moving when it doesn't have to (at night). Such a notification can automatically trigger engine shutdown to prevent vehicle theft without human involvement.
The same with videos. One can configure a notification that will save the video in case of an event. For example, when there is a traffic violation, door opening, theft, or accident, the system will save the video footage of this event from MDVR. All done in three simple steps.
Create an event-based notification for a particular vehicle.
Specify video length – up to 60 seconds.
Enjoy the videos automatically saved in the FiOS system.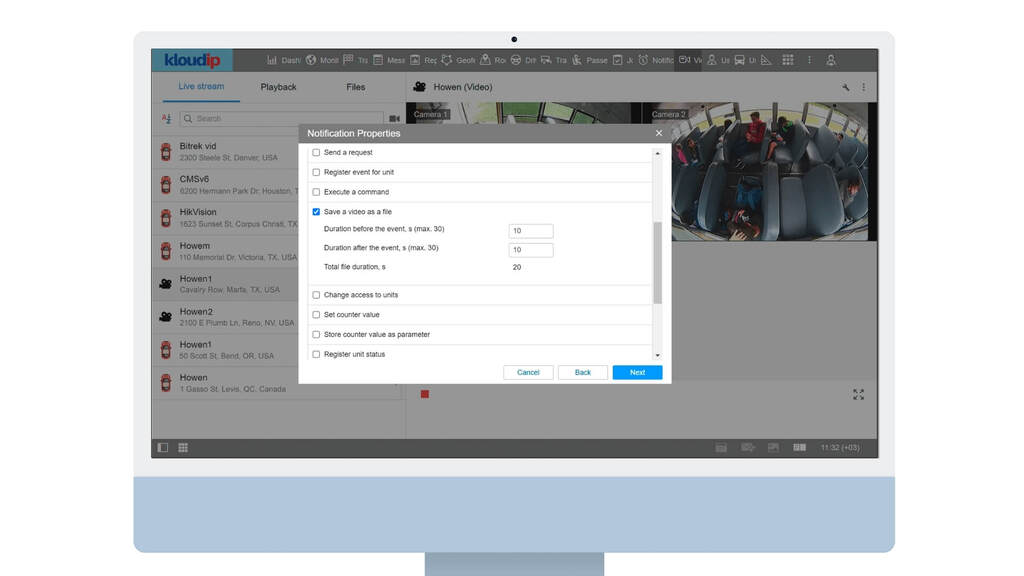 Manual video saving
Saving videos manually is much simpler:
Select a fragment when watching a saved video – just like in an average video editor – and click "Save to file."
Assign a tag from the list – it will help to find the video faster.
Video fragments saved manually and automatically are stored in the "Files" tab. There you can watch them, filter by date and event, or delete them.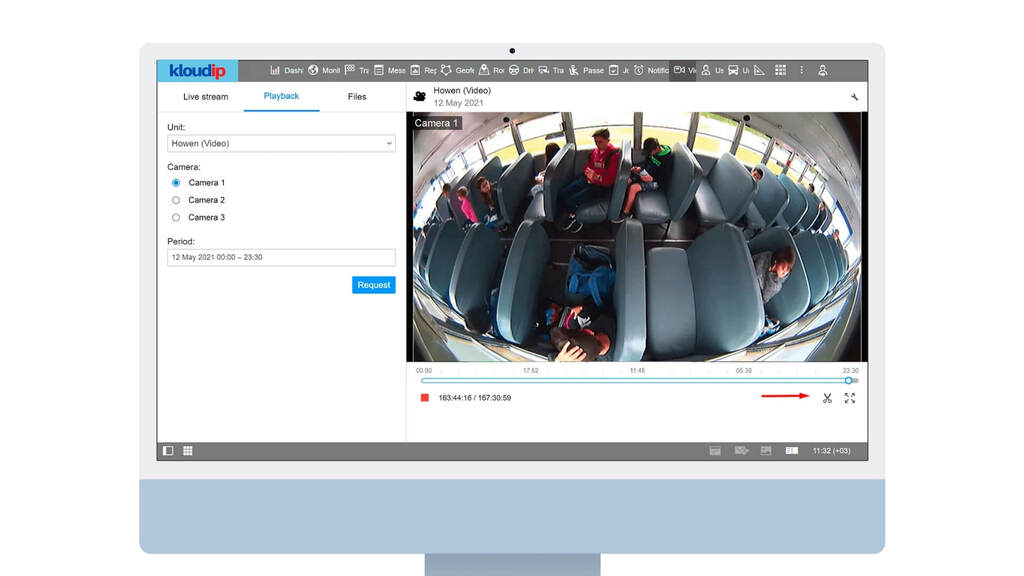 Videos in reports
FiOS fleet management system offers detailed reports on everything happening with vehicles.
If a violation or accident was captured by a camera, FiOS interlinks the event in a report with the corresponding video. Now fleet managers and dispatchers not only see what has happened, where, and when, but also see video confirmation.
Getting started
The new video module has been available since July 1. Contact us for a live demo and 60-day free trial of the AWS-powered video monitoring solution.