KLOUDIP keeps updating its fleet management software. Following the previous update released in March, the developers added more features to four main solutions, including:
FiOS GPS tracking and fleet management system
HEED maintenance management app
DISTRIBUTION platform for delivery services
SHUTTLE software for passenger transport
FiOS fleet management system
FiOS software covers both basic GPS tracking and advanced fleet management needs. We've prepared a quick video overview of it below:
In May, the developers enhanced reports, added a Wi-Fi positioning option, and enabled authorization via third-party apps. Let's take a look at each of the new features.
Reports
In April, we expanded the group reports for drivers, trailers, and passengers with new columns.
Driver groups. If you need a report on driver activities, the names of all drivers in the group will be there in the table.
Trailer groups. For example, if you need to know to which trucks your trailers were attached during this week, the detailed information about the trailers will appear in reports.
Passenger groups. You may need this report if you need to know which passengers were riding certain transport. Detailed information on each passenger will be displayed in the new report column.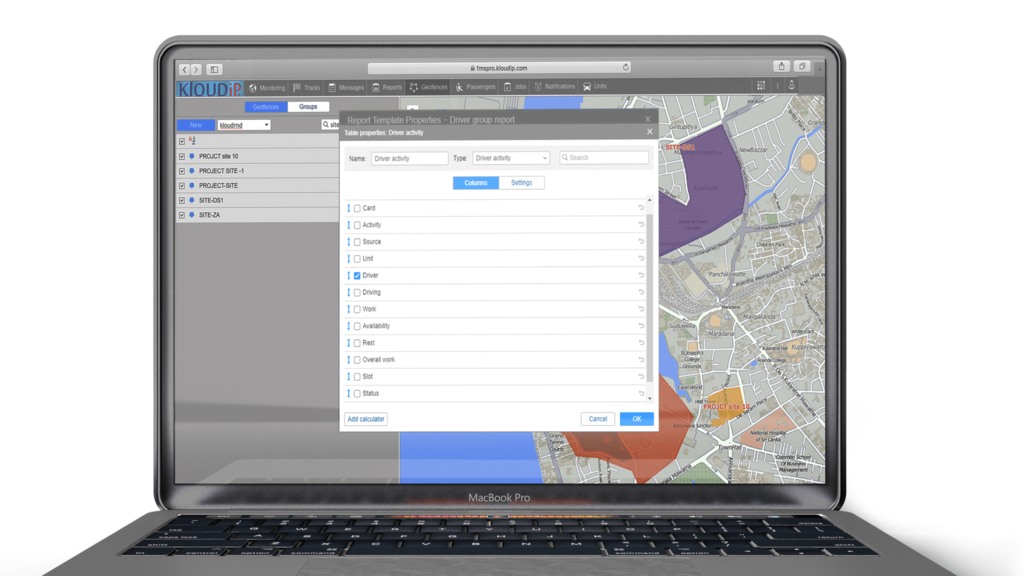 Additionally, we've added new columns to the Geofence report table. Now you can see:
Initial mileage and engine hours of the vehicle(s) entering the geofence.
Final mileage and engine hours of the vehicle(s) leaving the geofence.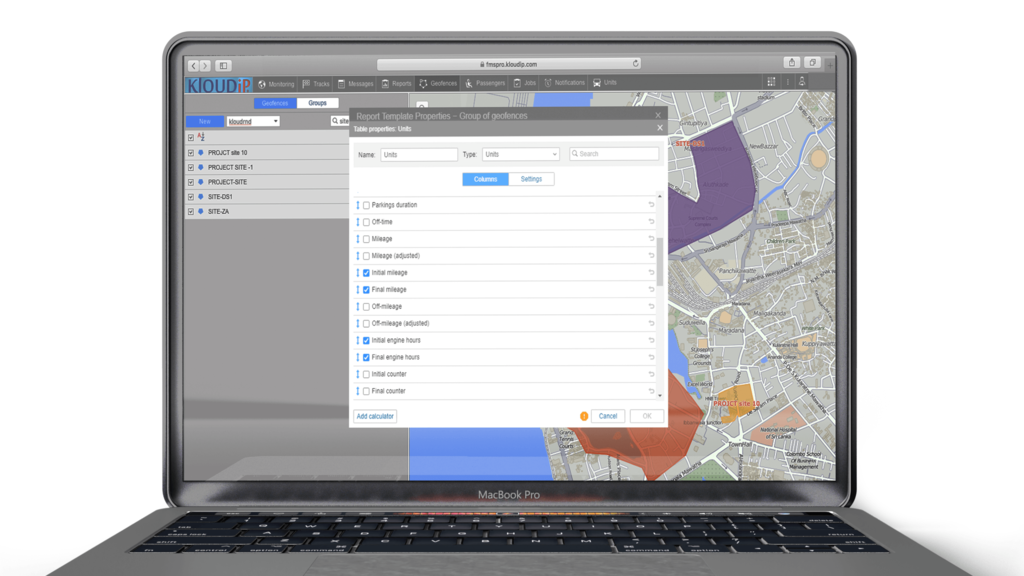 This way, you can see how many kilometers and engine hours the vehicle(s) made within a certain area.
Wi-Fi positioning
There are still places in the world where GPS is unavailable, but fleet management software can still work. You can track vehicles' location in the areas via cell phone towers and Wi-Fi access points.
How it works
A GPS tracker with a Wi-Fi positioning option is installed in the vehicle
The device receives data from the nearest Wi-Fi access points.
The system calculates the unit coordinates based on the vehicle's proximity to each Wi-Fi point.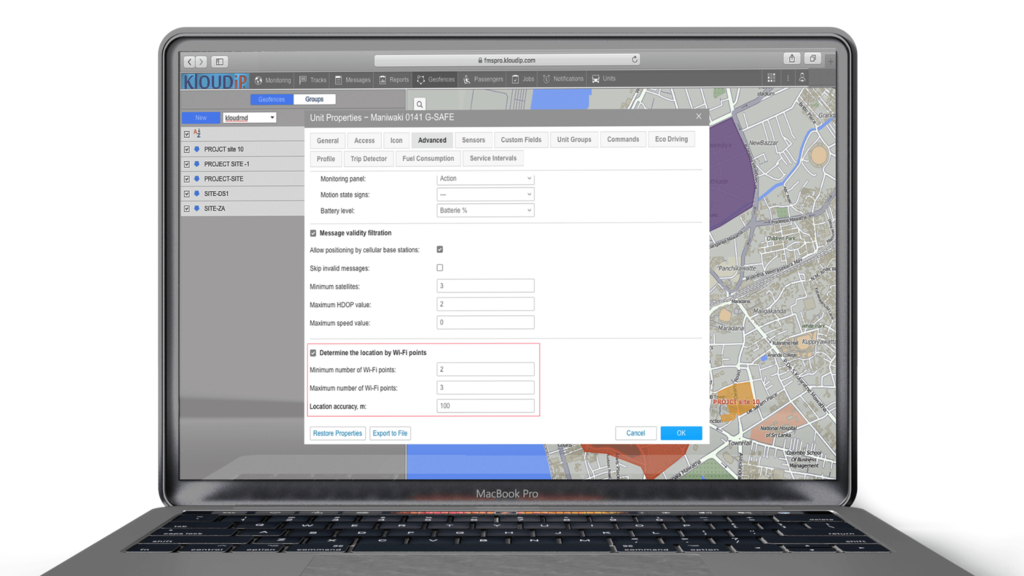 Authorization via third-party apps
KLOUDIP added the option for big corporate clients. Their employees use one company account to log in to all applications and services needed for their work. Since April, they no longer need separate login and password for FiOS. The staff can use the same corporate or Google account instead.
The above simplifies access to FiOS, relieves companies from password management hassle, and incorporates fleet management into the company's daily operations.
Contact us to configure FiOS login via your corporate account or learn more about FiOS software.
HEED fleet maintenance management app
HEED is software where you can track service works and spare parts used to keep your vehicle fleet healthy. Moreover, HEED will tell you how much fleet maintenance costs, notify you of the upcoming service works, and provide precise reports on vehicle maintenance.
Just recently, we've described the vehicle maintenance app in detail. Watch this 5-minute demo to get the idea of it:
Dashboard
HEED Dashboard gives a big picture of all maintenance operations and costs in your fleet:
In-progress, due, and overdue services
The cost per kilometer, engine hour, including fuel costs
Units (vehicles) and trailers in service and active
Drivers unavailable due to service works
Total service intervals controlled within the fleet
We've reorganized the Dashboard to present the information more conveniently:
Presented service works as a pie chart, showing the ratio between in-progress, due, and overdue services. Click on a chart section or legend to view detailed information about each service.
Units, trailers, drivers, and intervals sections became more compact but still informative. Just like with the 'Services' pie-chart, detailed information on each element is available in one click.
HEED allows adding fuel expenses to maintenance costs. Since the update, you can view fuel expenses separately and as a part of total maintenance costs. Plus, you can see the percentage of fuel costs in total maintenance expenses.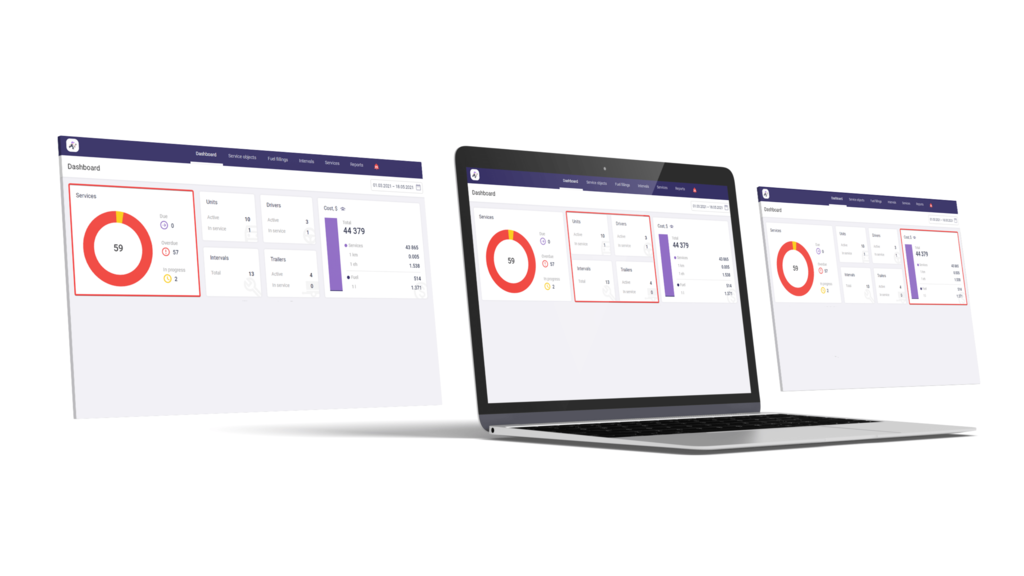 Notifications
HEED alerts you of the upcoming and deferred service works in your fleet. Before the update, HEED has been sending notifications about all maintenance activities within the whole fleet. In April, we added an option to configure notifications for particular works and vehicles only. It allows you to focus on the maintenance operations that matter most.
Interested in HEED? The developers offer a 60-day free trial period on this one.
DISTRIBUTION for delivery services
Delivery and distribution services use the app to enhance logistics, build optimized routes, track couriers and interact with clients in real-time. You can watch it action before you proceed:
Route planning
KLOUDIP updated its route-building algorithm to balance cost-efficiency and on-time delivery. DISTRIBUTION now goes beyond building the shortest routes – it ensures that delivery companies spend less on each delivery, still exceeding customer expectations in terms of delivery time.
The system now offers three route-building modes.
Cost-efficient. The system focuses on delivering as many goods as possible using the lowest number of vehicles. Your transport will deliver as many goods as they can carry via the shortest routes. As soon as you use fewer vehicles, there may be late deliveries. This option is perfect for heavy trucks that deliver large-sized cargo and consume high volumes of fuel.
Balanced. The mode is just like the 'Cost-efficient' but focused on strict delivery time compliance.
Fast. The algorithm distributes delivery orders between all the available vehicles to ensure the fastest possible delivery. This mode is perfect for food or document delivery services, where speed is the main criterion of client satisfaction.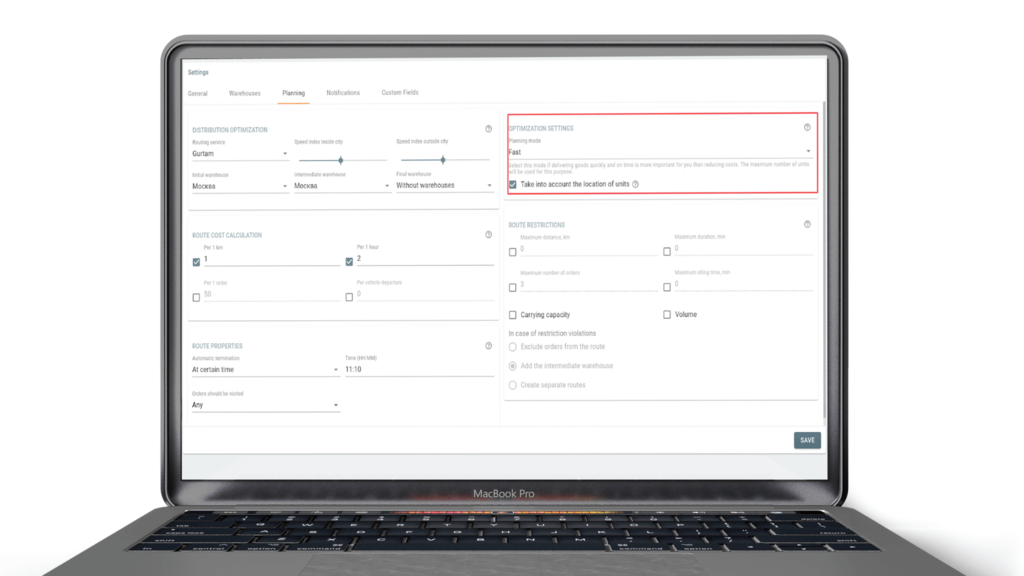 Another great option added in April is route-building based on the current vehicle location, not some standard parking or garage.
It means that if a new order appears during the day, the system will select the vehicle closest to the order pick up (warehouse) or delivery point (if the goods are already in the vehicle).
Or if a courier starts from his home, he can go straight to the nearest warehouse or client, with no need to visit a garage.
It allows eliminating unnecessary rides, thus, saving fuel, and minimizing mileage and delivery time. 
Interface enhancements
DISTRIBUTION interface comprises the navigation bar, the map to track deliveries, and the table section with detailed information about orders, routes, and rides.
We added an option to collapse the navigation bar and give more screen space to the map and table sections, being the most informative and important for the dispatchers and delivery managers.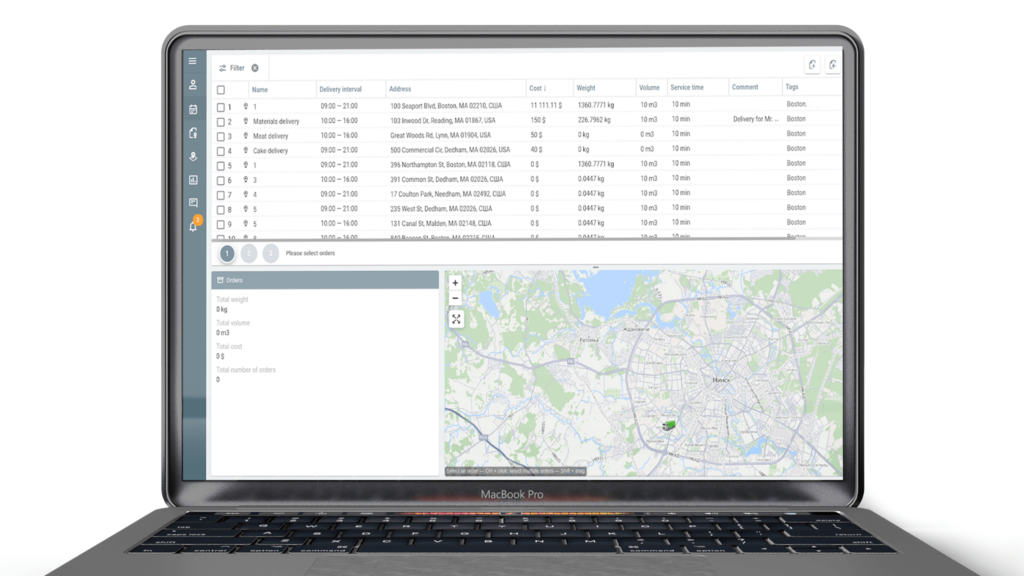 Learn more about DISTRIBUTION and request your free trial.
SHUTTLE app for passenger transport tracking
SHUTTLE enables efficient passenger transport management, including stop visiting, schedule compliance, early and late arrivals, and much more. Here's how it works:
Relative schedules
We've added related schedules functionality to track the performance of passenger transport that operates without schedules, for example:
Passenger vans with flexible schedules
Transport that starts a route only when enough passengers are boarded
For such transport, SHUTTLE creates a one-time schedule at the moment of first stop visiting or manual ride activation by the dispatcher. That way, you track route point visiting time and intervals without creating and changing schedules.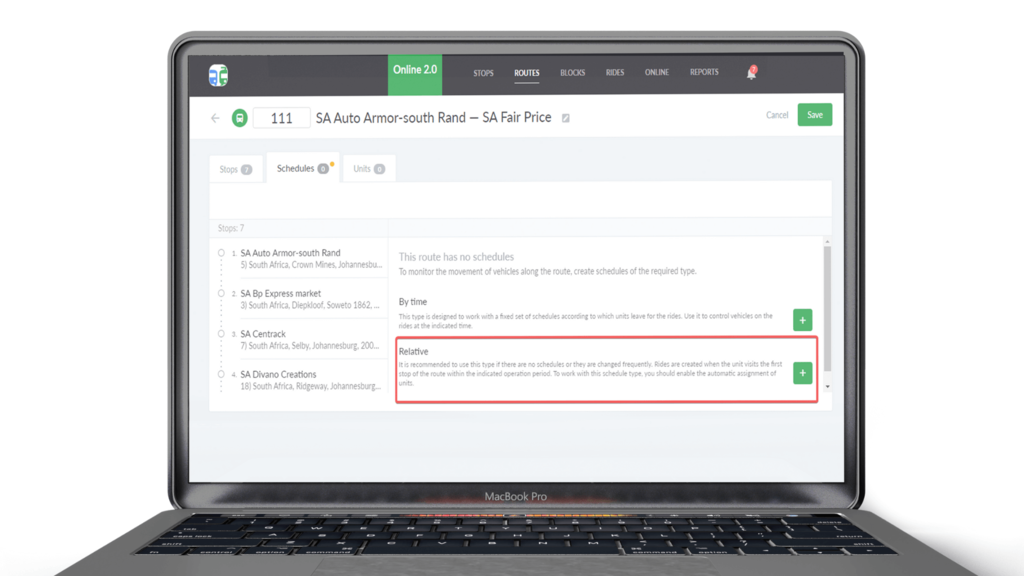 Ok, that's all about SHUTTLE and other fleet management software updates in May. Check out other solutions on KLOUD Repository or contact us to implement the solutions in your business.